7 Iconic Pete Seeger Songs That Defined American Folk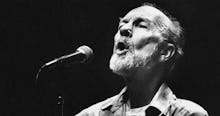 In 1969, Pete Seeger sent his ship off on its first voyage. Crewed by musicians, the Clearwater was a 106-foot dream campaigning for a cleaner Hudson River. Seeger, who died earlier today at age 94 in Beacon, New York, was always dreaming big.
It's a fitting age and place for America's greatest folk legend to pass; for most of the tumultuous 20th century, he was the rare light of American hope, one of the few with an (often problematic) insistence on preserving our national dream.
Seeger spent his life working to bring American people back to their music, and to realize the dreams within their songs. At his 90th birthday concert, he told 15,000 people, "There's no such thing as a wrong note as long as you're singing it." From the man who could sing songs like "No Irish Need Apply" without sounding anachronistic, it rang true.
Pete Seeger's celebrity is not great, but his influence in American folk music is overwhelming. Here are seven songs he taught the whole country to sing.
1. "If I Had a Hammer"
Written with his friend Lee Hays, "If I Had a Hammer" was written in 1949, and was meant to bolster the progressive movement. 
Now, it's a song many of us sang as kids. It's sad to see this song relegated to children's music — if there's anything childish about it, it's only the guilelessness of its utopian vision for a united America.
2. "Turn! Turn! Turn!"
As with many famous folk songs, The Byrds made this famous with their 1965 cover. Unlike many famous folk songs, this one is made up of the words from Chapter 3 in the Book of Ecclesiastes. Pretty solid as source material goes.
3. "We Shall Overcome"
Nobody knows who wrote the original version of this song, but Pete Seeger's 1947 adaptation is the most famous. It became the defining song of the Civil Rights movement, equally indebted to folk protest and gospel spirituals.
On April 9, 1968, 50,000 people sang this song as they followed the mule-pulled wagon bringing Martin Luther King, Jr. to his grave.
4. "Big Rock Candy Mountain"
Though first made famous by Burl Ives, Pete Seeger's version of this hobo song is definitive. Perhaps the more accurate version is this slurred drunken adaptation by Tom Waits, going full-hobo.
5. "Where Have All the Flowers Gone"
Even when he could barely sing, he was still performing this song, written in 1955. Peter, Paul and Mary recorded a hit version of it in 1962.
6. "Little Boxes"
This is one of Seeger's most famous songs — a lilting, scathing critique of overly-orderly American life. It's actually a cover of Malvina Reynolds, but Seeger made it truly relevant in 1964.
7. "Wimoweh"
Adapted from a South African song for his band The Weavers, "Wimoweh" is probably most recognizable to our generation as The Lion King's "The Lion Sleeps Tonight."
In this recording, you can hear a classic example of Pete Seeger trying to teach his listeners to harmonize.
Correction: Jan. 29, 2014
An earlier version of this article incorrectly suggested that "If I Had a Hammer" was written in the 1960s. It first rose to prominence in the 1960s after the Peter, Paul and Mary cover, but it was written in 1949.