5 Ridiculous Celebrity Endorsements That Went Way Wrong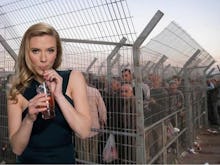 Scarlett Johansson can't catch a break with her new controversial ad, slated to run during the Super Bowl (though Fox shut that whole thing down). 
The issue is pretty obvious: Johansson is endorsing a health drink company that operates out of a factory in a settlement in the occupied West Bank, which are illegal under international law. 
While the ad encourages potential customers to "set the bubbles free," many critics have noted that Palestinians in the zone are not free.
The ad has also put Johannson's relationship with human rights group Oxfam at risk.
Unfortunately, Johannson is not the only celebrity who has endorsed a company that operates illegally, violates human rights or fails to display basic common sense. It's hard to feel sorry for her.
After all, when it comes to spotting hypocrisy from mainstream stars, the Internet can be relentless. While a product endorsement might seem like an easy check, the online world might make it more difficult to separate a harmless advertisement from the unethical practices of major corporations. 
Here are five examples of celebrity endorsements gone wrong:
1. Beyoncé + Pepsi
At first glance, Queen Bey's Pepsi endorsement is no big deal. After all, Britney Spears, Christina Aguilera, Michael Jackson, Janet Jackson and Nicki Minaj have all endorsed the soda brand. 
But Yoncé was called out for blatant hypocrisy given that before she signed the $50 million promotional deal with Pepsi, she was part of Michelle Obama's Let's Move fitness campaign. 
In a New York Times op-ed, Mark Bittman wrote, "Knowles is renting her image to a product that may one day be ranked with cigarettes as a killer we were too slow to rein in. From saying, as she once did in referring to Let's Move, that she was 'excited to be part of this effort that addresses a public health crisis,' she's become part of an effort that promotes a public health crisis."
Beyoncé, not one to remain silent, told Flaunt, "Pepsi is a brand I've grown up seeing my heroes collaborate with. The company respects musicians and artistry. I wouldn't encourage any person, especially a child, to live life without balance."
It might be time for a new brand to start a long-standing tradition of respecting musicians and artistry — and Bey could have started that revolution. In fact, many thought she would.
Instead, Pepsi released Beyoncé's exclusive video of "Grown Woman" from her eponymous album. Looks like these two will be working together for quite some time.
2. Kristin Davis + Ahava Dead Sea Laboratories
Beloved Kristin Davis, the Charlotte we knew all too well in Sex and the City, accepted a spokesperson deal with Ahava Dead Sea Laboratories to help improve their image in 2009. Ahava is an Israeli cosmetics company that manufactures products using minerals and mud from the Dead Sea.
So far, no problem. Right? 
The issue though is that Ahava's headquarters, including the company's main factory and its visitors center, are located in the Occupied West Bank. All Israeli settlements in the West Bank are illegal under international law.
All Israeli companies based in the occupied West Bank are considered war profiteers.
Yikes. Of course, things got much worse for Davis. Thanks to a Code Pink Alert article concerning the illegal activities of Ahava, Davis' charity organization, human rights group Oxfam International, booted her from the company. 
After her ousting for OxFam International, Davis got the boot from Ahava as well. According to Davis' publicist, her Ahava contract expired and Oxfam said the group would continue to work with Davis in the future. 
Davis never made an official statement on the issues, though a source told "Page Six" that at the time, Davis she didn't know about Oxfam and Ahava's competing agendas.
Talk about a big oversight.
3. Kim Kardashian + Millions of Milkshakes
Kim Kardashian was flown out to the Gulf to promote Millions of Milkshakes in December 2012, a Hollywood-based shop that has now launched internationally. 
Seems harmless, right?
Except that Bahrain — one of the countries that she was visiting to promote the brand — was engaged in a crackdown on protests. The country saw pro-democracy protests on Feb. 14, 2011, and has experienced unrest ever since. 
The men behind Millions of Milkshakes, Sheeraz Hasan and Paresh Shah, were hired by the Bahraini government to "mandate to source unique investment opportunities outside of Bahrain and developing infrastructure within Bahrain' after meeting with the royal family earlier this year."
While Kardashian tweeted about the country's beauty, pro-democracy activists ridiculed her oblivion to the political situation. Zainab Alkhawaja, who is now in prison, had this to say about Kim's visit:
4. Kim Kardashian + QuickTrim
And because the Kardashian klan has difficulty staying out of controversy's way, Kim also rubbed Australians the wrong way when she endorsed weight loss pill QuickTrim in 2012.
QuickTrim bottles featured Kim's appearance with an endorsement about the effetiveness of the product. She went on a tour around Australia promoting the weight loss pill, as well. 
However, the pill was found to be unhealthy, dangerous and ineffective. They were then banned in Australia. A class action lawsuit in New York aimed at Kim and Khloe for their endorsement of the product both on the bottle and on social media. 
Per usual, the Kardashians took none of the blame. They claimed that if the product didn't work, it isn't their fault because they do not manufacture it.
Solid reasoning. 
5. Lana Del Rey + H&M
Last year, H&M halted the production of angora products as reports from PETA revealed rabbits in the company's Chinese factories were being badly treated. 
Lana Del Rey wear fur. And a lot of it. But that doesn't mean that she was happy with the torture of animals in the name of fashion.
Videos released from PETA [WARNING: graphic] show workers in the factories plucking hair from the rabbits, sparking an H&M representative to say, "Plucking is not acceptable in accordance with our product policy. We will now accelerate further inspections of our sub-suppliers to ensure compliance with our policy."
Lana Del Rey has been a celebrity model for H&M since 2012 and in the brand's 2012 Holiday Lookbook, Del Rey sported many angora products.
There hasn't been much backlash against Del Rey for supporting the brand despite the animal cruelty issue — neither she nor H&M's employees knew about the abuses. A photo of her in one of the offending sweaters appeared in many outlets to illustrate the story. Despite not having a stance on this issue, she became the face of it. 
When it comes to celebrity endorsements, stars have a unqiue opportunity to support the brands and companies that look out for the consumers well-being. 
Do they have to? Obviously not. But if pop culture icons don't stand up for the rights of their fans , no one else will. At the very least, these celebrities owe us that.