These 3 'Pitch Perfect' Songs Completely Justify Our Need for a Sequel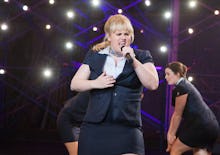 The Pitch Perfect sequel is getting closer and closer and we're all aca-freaking-out. Details are only just starting to leak, but yesterday it was announced that one of the original film's stars and producers Elizabeth Banks will be making her directorial debut by taking the reins of Pitch Perfect 2. She'll also be reprising her role as Gail, one of the aca-judges. 
Stars Anna Kendrick and Rebel Wilson are reportedly likely to return as well, and original screenwriter Kay Cannon is said to be writing the script. 
"Elizabeth originated the idea for Pitch Perfect and was instrumental in making the first film such a huge success," said Universal Pictures chairman Donna Langley. "She brings an enormous amount of energy and experience to everything she works on and we're thrilled that she is making her feature directorial debut on Pitch Perfect 2."
Works for me. Even if the sequel is only half as good as the original, we'll be happy. "Half?!," you say? Well, have you even seen Pitch Perfect? Do you even remember the audition scene when we get a glimpse of the future of the Bellas, and you suddenly realize how amazing this movie is going to be?
I mean, did you even watch the riff-off when the Bellas start to discover who they are and finally begin to have fun and come together as a group?
Or what about the final performance, when everything comes together for the Bellas into one aca-mazing mash-up? Are you even paying attention?
So yeah, we're pretty excited about Pitch Perfect 2.