An Inside Look At How Sanctions Really Do Hurt the Lives Of Ordinary Iranians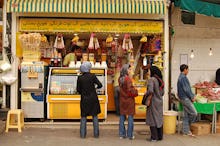 In August 2012, I sat in a café in northern Tehran with Ali, Shayan and Nima, a motley crew of Iran-born 20-somethings I had met while previously studying in Iran. It was nighttime, and we were the café's only patrons.
The server handed us menus that startled us: a cup of coffee was 60,000 rials, the value equivalent of buying a cup of coffee for $6 USD, although considering the loss of the rial's value at that time, the actual exchange rate would bring it closer to $2 USD. We ordered a 100,000 rials pot of tea to split amongst the four of us — a more reasonable option.
When the tea arrived — an insipid teabag floating in a pot of lukewarm water — Shayan began pouring into each of our cups, and spilled a bit on the table.
"Shit," he said. "I've just spilled 10,000 rials worth of tea." We laughed, our voices filling the emptiness of the café, but it wasn't really funny at all.
That was more than a year ago and before the worst effects of the multilateral sanctions implemented against Iran would be felt by Iranians. Within the first 10 months of 2012, the rial reportedly lost 80% of its value. And by November of that year, the trade embargo on Iran hadn't just affected the industries they targeted, but also had widespread repercussions on all sectors of Iranian life.
Now, it's been just over a week since some of the sanctions against Iran were lifted and already Iran's oil sales have risen, Reuters reported. But make no mistake. The adverse effects of the sanction regime against Iran are far from being corrected. And that bump in oil sales is more likely a psychological advantage than a direct reaction to the easing of sanctions. In reality, a long and winding road lies ahead of Iran's process toward sanctions relief, though perhaps not quite as long as its history of living under them.
Image Credit: Sasha von Oldershausen
Over the past year, Iranians have faced a health crisis as sanctions have impeded the delivery of lifesaving medications produced abroad. While these drugs are technically exempt from the trade embargo, banks require permission from the U.S. Treasury to engage in any fiscal transaction with Iran.
Ambassador William H. Luers, the director of The Iran Project, an NGO that seeks to improve contacts between the U.S. and Iran through informal dialogue, told PolicyMic, "The issue there is, how can the United States Treasury relieve money for flow when they don't know how it will be spent? How can they be sure it won't be spent for the Revolutionary Guard?"
Banks that fear the possible consequences of engaging in any fiscal transaction with Iran would rather have nothing to do with them at all. The result violates the most basic of human rights: access to healthcare. Foreign-manufactured medicines, such as the U.S.-produced cancer medication Herceptin, have been increasingly hard to find, and more and more people have been forced to travel to other cities in search of a supply of drugs that simply does not exist.
Image Credit: Sasha von Oldershausen
The interim deal that temporarily concluded nuclear talks between Iran and the P5+1 stipulated that if these world powers reach a final agreement with Iran within six months, and Iran abides by the agreement, most of these sanctions will be lifted. In the meantime, Iran has agreed to reduce some of their programs in exchange for the easing of some sanctions.
Specifically, the United States will release up to $7 billion USD in oil revenue over the period of the next 6 months — a trifling figure compared to its over half-a-trillion per year oil-based economy — so long as Iran limits its uranium enrichment and opens its facilities for daily inspection by the UN's International Atomic Energy Agency.
But this trade-off is not as straightforward as it might seem. The sanctions regime implemented against Iran is like a clumsily formed ball of yarn comprised of many separate strings: many different governments have invested political capital in building the Iran sanctions regime, and a majority of the members of the U.S. Congress have a political commitment to maintaining them.
Then, of course, is the issue of the sheer number of sanctions implemented against Iran, which span as far back as the aftermath of the Iranian Revolution in 1979. A report published by The Iran Project and entitled, "Weighing Benefits and Costs of International Sanctions Against Iran," stated, "The sanctions regime has evolved over almost three decades and reflects several unique stages in the troubled history of U.S.-Iran relations and international concerns about Iran. Many decision makers in Washington may not recall the history of the sanctions or fully grasp their complexity."
In particular, these sanctions exist in three distinct but tangled categories: the first is specifically related to Iran's nuclear program and a UN agreement, then there's another category of unilateral sanctions enacted by the United States, and a third category of sanctions intended to reprimand Iran for certain political affiliations, like its support for Hezbollah and Hamas, which is unaffected by a nuclear deal.
The process of unraveling these various sanctions requires untying the many knots that lie within, and careful coordination among the players involved. Some of the sanctions require executive order to be lifted, while others require Senate approval. Others still can be relieved by UN resolution only. In the meantime, Iranians can hold their breath.