New Report Says Kim Jong-un Executed His Uncle's Whole Family — Inside This Mysterious Story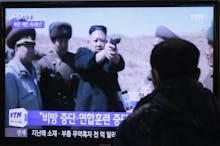 The news: A new report from a South Korea news agency says that North Korean Dictator Kim Jong-un had his uncle's entire extended family executed, children included. Kim allegedly had his uncle's family pulled out of their homes and shot to death.
Among those said to be killed in the "purge" are the North Korean ambassadors to Malaysia and Cuba, the nephew and brother-in-law of Kim's uncle, respectively.
This news comes after Kim had his uncle, Jang Song-thaek, executed last month on charges of treason. According to the report, Kim had his uncle's family executed, so that "no trace of him should be left."
If true, the report reveals a paranoid Kim fearful of treason. The execution of his uncle, who was considered to be the country's top official behind the dictator, and two ambassadors, is quite the shakeup for the North Korean government. 
The key here, though, is that this new report remains unconfirmed.
And we all know what happened the last time unconfirmed news came out of North Korea. When it was first revealed that Kim had his uncle executed, a story surfaced reporting that Kim had his uncle fed to a pack of dogs.
United States and international media jumped on this story, reporting it though no source was listed. Sure, there were a few skeptics, but by-and-large the media ran with it. And they were duped. It turned out that the story was cooked up by a Chinese satirist, and that Jang was probably executed by firing squad.
So any unconfirmed news out of North Korea should be treated tenuously. The South Korean news story cites sources but leaves them unnamed, and western media is running the story as unconfirmed. But because news out of North Korea can run the gamut, it's hard to tell what's real and what's not.