Here's the Bizarre Video of Vin Diesel Dancing to Beyoncé That is Going Insanely Viral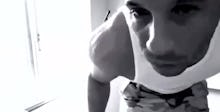 Often times, Internet gems come to us from the most unlikely sources — sources like Vin Diesel. On Tuesday, a video of action megastar Vin Diesel singing and dancing to Katy Perry's "Dark Horse" and Beyoncé's "Drunk in Love" exploded across the web. Check it out here:  
The actor was celebrating the fact that his movie Riddick reached number one in DVD sales and, like most people you know, his natural reaction was dancing embarrassingly around his room to Katy Perry and Beyoncé. What he charmingly lacks in grace and rhythm, he more than makes up for in enthusiasm — love music, he does — and command of the lyrics. Clearly, he has listened quite a bit. No offense to Katy Perry, but his love for Beyoncé is apparent in his boyish smile and increased vigor when he turns up the now classic, "Drunk in Love," which was performed at this Sunday's Grammy Awards.
This video really has everything: Vin Diesel snapping, Vin Diesel grabbing his crotch, Vin Diesel rapping, Vin Diesel acting out lyrics and finally Vin Diesel doing a special dance when Beyoncé sings, "surfboard." It's also nice to see the actor, who has publicly been mourning the death of his close friend and co-star, Paul Walker, getting funky again.
May we suggest Beyoncé's "Flawless" next?