Angel Haze Covers Beyoncé's 'Drunk In Love' and It's Better Than the Original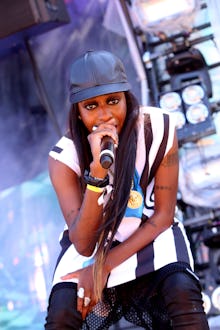 They say imitation is the sincerest form of flattery (though J.Cole doesn't agree), and if that's true, then rapper Angel Haze is racking up a lot of good karma points. 
She's famous for her incredible covers — covers that proved that she was a star even before her albums. Most recently, she teamed up with BBC Radio to record a live cover of Beyoncé's "Drunk In Love," adding signature slight changes to the rapped verses like a calling card.
Though she does a good job with the Beyoncé portion of the song, the young rapper really excels on Jay-Z's verses. Angel Haze just can't hit the high notes in the same Queen Bey way — a backup singer hits them for her — but she does perform her own rendition of Jay-Z's verse as well as HOV ever could've, and with improved lyrics. 
"Drunk In Love" is not Angel Haze's first well-known cover, though — she has a history of taking originals and making them even better. She caught early attention for her cover of Kanye West's "Otis," and she has produced her own versions of Miley Cyrus' "Wrecking Ball," Lana Del Rey's "Summertime Sadness," John Newman's "Love Me Again" and Kanye West's "New Slaves."
All this has only bolstered the success of her biggest album to date. She released Dirty Gold (after leaking it first) in 2013 with hits including "Echelon," "A Tribe Called Red" and "New York." Her rise has been meteoric, partially because she's been able to prove on these covers that she can hold her own with the biggest names in the game. In fact, she's proven that she can one-up them.