9 Photos That Show What It's Really Like to Live in Sochi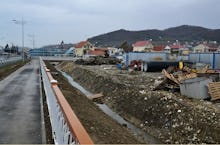 Sochi has been in the news a lot lately. Between its mayor declaring the city to be 100% heterosexual and the mounting concerns over terrorist threats, the upcoming Winter Olympics have not exactly been controversy-free.
While the Coastal Village, where the competing athletes will stay, and the tourist-friendly boardwalks look gleaming and neat, day-to-day life in Sochi brings a much different reality. 
So what is life in Sochi is actually like? Amidst all the Internet chatter about security and gay rights, one Sochi man decided to take matters into his own hands and uploaded images of his town to Imgur and Reddit, including commentary. Here are a few examples:
1. "Welcome to the Winter Olympics 2014."
Apparently this is a view of one of the main streets, near the Olympic Park, 15 days before the Olympics are scheduled to begin. 
2. "Trying to cover the reality with fence."
This photo was taken near the main road.
3. "Trashcans is still very new technology for Sochi."
A daytime panoramic shot. 
4. "But there's special park for Putin."
Apparently it is closed to the public. 
5. "New sidewalk."
Watch your step.
6. "Power systems look very solid and finished."
And watch out for those wires as well.
7. "Quality Russian roads."
Apparently the green powder is a fertilizer mix.
8. "No gas."
Fun fact. 
9. "For your notice, it's the center of the city."
Wow.