'The Fault In Our Stars' Trailer Is Here and It's the Most Beautiful Thing You'll See All Day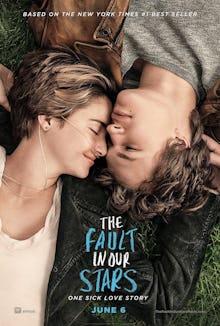 Shailene Woodley is continuing her quest to dominate the teen movie market, as well as our tear ducts. After her acclaimed turns in The Descendants and The Spectacular Now, the former TV star will tackle The Fault In Our Stars, an adaptation of the beloved John Green novel about two teenage cancer patients who fall in love.
The trailer, which dropped on Wednesday morning, offers glimpses of the teenagers' whirlwind romance. It also offers a preview of the most famous line from the book: "Okay?" "Okay."
The first official poster was revealed back in December, and was criticized for its tag line, "One Sick Love Story." The backlash led Green to publicly defend the poster on his blog: "I mostly wanted something that said, 'This is hopefully not going to be a gauzy, sentimental love story that romanticizes illness and further spreads the lie that the only reason sick people exist is so that healthy people can learn lessons.' But that's not a very good tag line. I like the tag line because it says, literally, the sick can also have love stories. Love and joy and romance are not just things reserved for the well," he wrote.
Image: Entertainment Weekly
If you want a preview of Woodley's on-screen chemistry with her co-star Ansel Elgort, you can check out The Hunger Games-like Divergent, which comes out on Mar. 21 and features the pair as siblings (kind of awkward).
The Fault In Our Stars will hit theaters on June 6.