2 Biggest Problems The NCAA Will Face If Unionization Becomes A Reality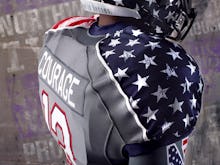 College athletes may unionize for the first time ever, a step that would make them employees and afford them protections usually reserved for trade organizations and service-sector workers. 
The unionization push began with Northwestern University's football team, the Wildcats, which petitioned the National Labor Relations Board (NLRB) on Tuesday with the assistance of Ramogi Huma, president of the National College Players Association. If recognized by the NLRB, the labor union will be called the College Athletes Players Association (CAPA).
"Right now the NCAA is like a dictatorship. No one represents us in negotiations. The only way things are going to change is if players have a union," said Kain Colter, Northwestern quarterback in the 2013 season, to ESPN's Outside The Lines.
If their efforts are successful, Northwestern football players will have changed college sports as we know it by gaining substantial negotiating rights, including collective bargaining, which could eventually lead to student athletes being paid like their professional counterparts.
The NRLB protects the rights of most private-sector workers, notably the rights to unionize, participate in collective bargaining, improve working conditions and increase pay.
The NCAA has already responded to NRLB's attempt to unionize the Wildcats. 
"Student-athletes are not employees within any definition of the National Labor Relations Act or the Fair Labor Standards Act," said NCAA Chief Legal Officer Donald Remy. "We are confident the National Labor Relations Board will find in our favor, as there is no right to organize student-athletes."
Below are two big problems the NCAA could run into if unionization becomes a reality:
Demand for pay. Although student-athletes could demand pay if unionized, that's unlikely to happen anytime soon. Colter told The Atlantic he is most interested in unionization as a means to protect the scholarships of injured players and improve safety regulations.
Potential strikes. Unionization would also afford players the opportunity to strike if their demands go unmet. This partly explains why Northwestern University opposes its players' attempt at organizing.
"Northwestern believes that our student-athletes are not employees and collective bargaining is therefore not the appropriate method to address these concerns," said Jim Phillips, Northwestern's vice president of athletics and recreation.
"These concerns" refer to Colter's interest in making football safer for student-athletes.
In order to officially unionize, the Wildcats would need at least 30% of their players to sign union cards. Huma has publicly declined to say exactly how many players signed cards, insisting that an "overwhelming majority" chose to join the effort to unionize.