Super Bowl 2014 is Being Supported By Your Hard-Earned Tax Dollars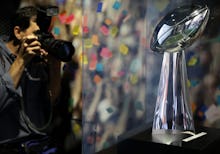 Woohoo! At long last, it's Super Bowl weekend! But whether you'll be settling down on the couch with your giant plate of nachos or mingling at the edge of a crowd (only pretending to be there for the actual game), be mindful of just how much of your money is involved.
The National Football League (NFL) relies on massive public funds; it uses state and city money to fund the vast majority of its stadium construction, in addition to federal tax benefits. And while MetLife Stadium, the site of this year's Super Bowl, was built with private funds, don't be fooled. New Jersey residents, like just about anyone that lives in a state with an NFL team, are still subsidizing the Super Bowl, like they are the entire NFL season. That's enough to dismay even a football fan like me.
Many of the newer stadiums today were built with public money. Of the 27 NFL stadiums constructed since 1995, a whopping 22 of them were at least 67% funded using taxpayer money. The average stadium was 71% publicly financed during this period, and eight were entirely taxpayer-funded.
Why do we allow organizations which enjoy $1 billion per year in tax favors to bully "we the people" into giving them that? NFL Commissioner Roger Goodell earns an annual salary of $29.5 million, while taxpayers have shelled out over $18.6 billion in NFL subsidies since 1986, paying for stadiums, real estate taxes, infrastructure improvements and interest payments.
Roger Goodell via AP
Many municipalities are paying dearly for their subservience to NFL owners. Cincinnati was forced to slash health and human services costs by $23.6 million while paying more than that sum in debt service for the Bengals' stadium. Minnesota was facing a $1.1 billion budget deficit yet managed to convince taxpayers that a $506 million down payment on a new Vikings stadium was a top priority. New Orleans Saints owner Tom Benson is paid $6 million annually just to keep his team from leaving town.
As billionaire NFL owners threaten to move teams to more "accommodating" municipalities, fans are forced to foot the bill in order to keep their home team in town. Threats and coercion are no way to run a business, let alone a massive organization enjoying tax-free nonprofit status. James Runzheimer, an Arlington lawyer and an opponent of public financing for stadiums, characterizes the trend bluntly as "use of government funds to subsidize activity that the private sector can finance on its own." Unfortunately, many football fans are so blinded by the love of their home team that they ignore concerned citizens and even criticize activists for not unquestioningly supporting the demands of owners.
The only NFL stadium constructed without public financing is the MetLife Stadium in East Rutherford, New Jersey — the site of the 2014 Super Bowl. Opened in 2010, MetLife is the joint home of both the New York Jets and the New York Giants. It cost $1.6 billion to build, and is the most expensive stadium ever built. And while it was built with private money, that's not the whole story.
Super Bowl XLVIII is on track to cost New Jersey residents big. The state might not have given direct tax breaks for the stadium, but it did donate valuable land for the construction of training facilities for the Giants and Jets and allocated $250 million for related construction costs. And while the NFL claims that the Super Bowl will bring $550 million to the region, economists warn it's "dubious math." That's not to mention the $17.7 million and counting costs to taxpayers, as the transit authority adds more trains, security and a fleet of garbage collectors. So much for lack of public financing!
Fellow taxpayers, getting a stadium like MetLife built with minimal public money is a step in the right direction, and is worth at least one Victor Cruz touchdown dance:
However, the damaging status quo of NFL stadium construction has looked a lot more like this:
Let's not allow ourselves another butt fumble.