Uncle Jesse and the Men of 'Full House' Reunite For A Sing-Along (And It Happens In Michelle's Bedroom)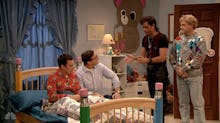 Wednesday night's episode of Late Night with Jimmy Fallon got a surprise blast from the past when the men of Full House — Bob Saget, John Stamos and Dave Coulier — dropped by in character for a nostalgia trip and a sing-along.
The segment begins with Fallon waking up from a nightmare and being comforted by Danny Tanner (Saget). Soon Uncle Jesse (Stamos) and Uncle Joey (Coulier) join them, while rocking some serious '80s gear.
Prodded by the men, Fallon opens up about his fear of taking over The Tonight Show on Feb. 17. He starts listing his favorite moments from hosting Late Night, but the nostalgia-fueled talk quickly turns to Full House as Saget says, "I host a talk show too. You've probably heard of it. Wake up, San Francisco!"
The clip is filled with hair jokes, an appearance by Mr. Woodchuck, a dig at the band Jesse and the Rippers and some patented Tanner wisdom on how to embrace your future without fear. And the men sound as good as ever (and Stamos looks good as ever) as they sing the classic "Teddy Bear" song to help Fallon sleep.
If the segment isn't enough to satisfy your craving for '80s flashbacks, have no fear: The Fallon appearance is just another stop in the Full House reunion tour. The men have been hitting up the media circuit to promote their Super Bowl commercial for the yogurt brand Dannon Oikos. You can watch the teaser and the actual commercial below:
Clearly, they're as happy and co-dependent as ever. (Although I'm not sure Aunt Becky will be entirely too happy.)
And if you want to take another trip down memory lane, you can watch the Full House men sing "Teddy Bear" in this classic clip from the 1990 episode "Crimes and Michelle's Demeanor":
Just how old do you feel now?