The Amazing Lorde Cover That Proves How Much She's Changing Pop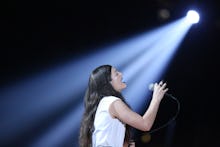 Fresh off her two Grammy wins — for Best Pop Solo Performance and Song of the Year — and much-celebrated performance, the 17-year-old (and professional I'm-here-to-make-you-feel-bad-about-what-you've-achieved-at-your-age missionary) Lorde returned to her home country of New Zealand to perform in Auckland on Thursday. There she tackled covering British artist James Blake's "Retrograde." And things got emotional.
Lorde, of course, completely nails the cover. She hits the notes perfectly while lending her own brand of weirdness to it. The fact that she is now recognized at the highest level of the industry and yet still so totally comfortable pulling off this cover just proves how radically she could change pop music. (Seriously, from being an unabashed feminist to taking out a full page ad in the New Zealand Herald to express her love and gratitude for her home country, it seems like there is nothing this prodigy can do wrong.) Blake was nominated alongside Lorde in the Best New Artist category this year; however, they both lost to Macklemore & Ryan Lewis. Their styles are entirely different, but there's one thing they have in common: like Lorde, Blake's musical maturity and poise surpasses his youth (Blake is 25 years old.) And both are changing music for the better.
While Lorde's "Royals" is known for being hyperverbal, almost rap-like, "Retrograde" is more driven by its liturgical moaning than its fanciful wordplay. Yet the affinity of these two musicians is in their authenticity, youth and potential to reshape the mainstream with their indie weirdness. Neither fits in with the existing musical scene, and both are strange in the best way possible. Hopefully this is a sign of some new alliance between the best and brightest in music.
Of course, few covers can surpass this unbelievably cool video of Lorde joining girl group Haim to sing Sheryl Crow's classic "Strong Enough" at a VH1 concert in November: