You've Heard Of the World's Poorest President — This is His Secretary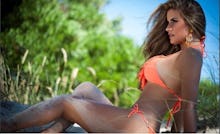 He's been dubbed the world's poorest president, and he's been snubbed the presidential palace to continue living on his rural flower farm. As a leftist guerrilla, he spent over a decade in prison, including two at the bottom of a well in solitary confinement. After he leaves the presidency, he would like to adopt some 30 children to teach them how to farm.
But just when you thought you had heard it all about José "Pepe" Mujica, Uruguay's eccentric president, you find out who works for him. Enter Fabiana Leis, one of Mujica's secretaries and a successful model.
Photo credit: ABC.es
Leis has worked for the presidency for 10 years (under three presidents), but she hasn't given up her modeling career to enter public service. Last year, she was the poster girl for a car company called Feyvi and posed nude for their calendar.
Image credit: Feyvi
She said that the calendar was "well-received" at the office and even that the president affectionately teased her about it. She does not rule out doing more nude photo shoots in the future.
It's not easy holding down two jobs, especially now that she's performing in an evening show called "the Musical" in a town outside the Uruguayan capital. Several times a week, she leaves her day job and drives a few hours to perform, only to get back into her car at 5 a.m. to make it back.
Photo credits: Twitter user @fabitaleis
She is not, as has been reported, the president's personal secretary, and she will continue to work for the presidency after Mujica's term ends. She is "very thankful" for the support she has received from the government, because "it is impossible to live off of art in Uruguay."
Fabiana Leis with President Mujica. Photo credit: 10 Minutos
Over Mujica's term, Uruguay has legalized abortion, gay marriage and recreational marijuana. The revelation that a presidential secretary can work as a part-time model is just another indicator how progressive the tiny South American country can be.