Another Beauty Pageant Queen May Be Part Of a Porn Scandal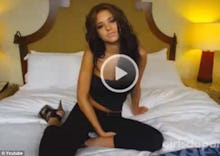 The news: Gawker has discovered that a runner-up for the crown in the Miss Colorado Teen USA 2012 pageant might have been stripped of her title because she was featured in a pornographic video just after her 18th birthday.
From Gawker:
"A tipster directed us to a video posted January 24 on the GirlsDoPorn.com website starring a woman who bears a strong resemblance to [Kristy] Althaus … On Tuesday, a longer clip from the video on imagepost.com identified its star as a "Miss Teen Colorado Runner Up."
Though Althaus was 1st runner up in the 2012 pageant, her name seems to have been removed from the Miss Teen USA website, suggesting that she has, willingly or unwillingly, relinquished her title.
This isn't the first time a beauty pageant winner has lost her title because of porn. Nearly a year ago, in February 2013, it was reported that Melissa King, the winner of Miss Delaware Teen USA 2012, gave up her title because she too had starred in a pornographic film for the same website, GirlsDoPorn.com. 
But why does it matter if these girls do porn? Aren't they free to make whatever decisions they choose? Why should that have any effect on their beauty pageant prospects? After King lost her crown, Bonnie Goldstein wrote an op-ed in The Washington Post wishing her good luck. "If it was the beauty queen having sex on camera, it was a bad idea," Goldstein wrote, "but she can still have a satisfying and productive life." But what exactly makes it a "bad idea"? Goldstein describes the porn as a "mistake" but never says why – one can only assume it was the wrong decision because it cost King her beauty pageant crown. Who knows, maybe King doesn't regret what Goldstein calls "the unfortunate outcome of [her] own blunders." Maybe it's not a big deal for her. Which means we should probably stop making such a big deal about it, too.