Cameron Diaz Awesomely Calls Out Media's Sexist Double Standard for Single Women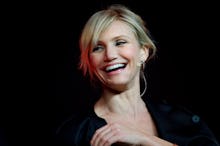 In the February issue of Self, cover girl Cameron Diaz calls out the media's "chauvinism and misogyny," and discusses how poorly women — especially famous women — are portrayed. She criticizes out the extreme double standard faced by single women in particular.
"If a relationship fails, it's because the woman couldn't hold on to her man, not that the man cheated. It's terrifying for a woman to get out of a relationship, because it's always going to be her fault," Diaz, 41, told the health and fitness magazine. "I get that a lot, being a single woman. The reports are always saying that I'm 'acting inappropriately' toward men. I don't at all harp on that s—, but I clock it. I notice it. And then I let it go because there is nothing I can do about it."
Media continues to spread notions that single women are lonely, unhappy and will do anything to be with a man, and that it's probably their fault if they're not in a relationship.
As the newly minted author of The Body Book: The Law of Hunger, the Science of Strength, and Other Ways to Love Your Amazing Body, which covers her holistic approach to health and nutrition, Diaz is a strong advocate for women's rights and gender equality. (She also works with watch company Tag Heuer to help raise awareness and funds for UN Women's gender equality and women's economic empowerment programs.)
Diaz' comments in Self point out some important false truths that the media perpetuates: That women are somehow always at fault for a failed relationship; that single women couldn't possibly be happy being single; and that men rarely face such scrutiny. 
Diaz is right. Celebrity tabloids, in which Diaz frequently appears, represent the epitome of these double standards. While most just imply that the dissolution of a relationship is always the fault of the woman, others quite literally assert that the woman in question can't hold onto her man. Even when the story (whether true or not) is that a female celeb was cheated on, dumped or rejected, the woman remains the centerpiece of blame.
Image credit: In Touch via Jezebel
Image credit: In Touch via Jezebel
Women who aren't in relationships often get pegged as "man-stealers" or "man-chasers," terms that demonize them for simply dating, and which promote the idea that a woman can't be happy without a man in her life. Men receive far more lax treatment, often getting called playboys for dating around — or simply not making headlines for their relationship status at all.
Our culture generally has positive (albeit somewhat skeezy) associations with the word "bachelor," but there's no corresponding for women (well, except bachelorette — but this is basically only used immediately prior to a woman getting married rather than to refer to single women in general). Single women, especially older single women, have to deal with stigmas like "sad spinster" or "crazy cat lady"). And shows like ABC's The Bachelor, which features women competing for a man's affection/love/engagement ring, have consistently performed better than their sister shows with male contestants competing for a woman's hand, a la The Bachelorette.
Image credit: Life & Style via Jezebel
This is arguably because we don't buy into the idea of men wanting a relationship so badly they'll compete for it as much as we do that women would, but it also points to a larger issue: The kind of media that Diaz refers to continues to spread ridiculous double standards that single women are lonely, unhappy and will do anything to be with a man, and that it's probably their fault if they're not in a relationship.
Image credit: OK! via Jezebel
Beyoncé may have made being a single lady a little more socially acceptable, but media coverage — especially tabloid coverage — of single women consistently implies that they're somehow lacking, and undermines a woman's agency to choose to be single.
Image credit: Life & Style via Jezebel
Diaz hits perfectly on the unattainable standards the media puts on women, as well as the backward double standards it puts on single women.