8 Films That Reveal the Shifting American Bias Towards the Middle East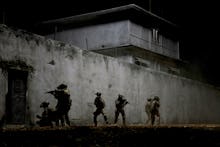 It's been over 10 years since the United States entered Iraq. Though the war in Iraq has officially been over since 2011, our involvement in the Middle East is stronger than ever. And from 9/11 until now, popular opinion in favor of or against the war in Afghanistan has ebbed and flowed.
As we inch closer to Oscar season and the Super Bowl this weekend, and in the wake of President Obama's State of the Union address on Tuesday night, there are an increasing number of media outlets — films, advertisements, television shows, news publications — addressing the shifting attitudes toward America's role in war and conflict in the Middle East. And though our involvement overseas is far from new, it seems that the types of media that are reaching the widest audiences — and having the biggest impact — are changing with the times.
Looking back at some of the biggest war films and ads of the past few years shows just how our much our perception of U.S. involvement with conflicts in the Middle East can change.
1. Pre-2008: 'Iraq in Fragments' / 'In the Valley of Elah' show that little attention is paid to Middle Eastern war films.
Back in 2008, news outlets were writing about how little news outlets were writing about the war in Iraq. In that same year, Kathryn Bigelow's The Hurt Locker put movies about the U.S. involvement in Middle Eastern conflict on the map. The film received nearly universal critical acclaim and several well-deserved Oscar nominations and wins, including the awards for Best Picture and Best Director.
In comparison, most previous movies about Iraq or Afghanistan had flopped or fallen into oblivion; even Iraq in Fragments and In the Valley of Elah, which were Oscar contenders for Best Documentary and Best Actor, respectively, didn't garner as much attention as The Hurt Locker did.
2. 2009: 'The Hurt Locker' defies expectations of what an Iraq war film should be.
The Hurt Locker became the benchmark for what a movie about the war in Iraq should look like: dramatic and action-packed, alternating between long lulls of numb nothingness and quiet deserts, pensive and morally ambiguous. Time Magazine even described it as a "near-perfect war film." Focusing on an EOD soldier in Iraq whose job it is to dismantle bombs, Bigelow's film defined the genre and defied the logic of what most of us thought an Iraq War movie should be. Might Jeremy Renner's character actually like what he does? He actually wants to stay in Iraq? He's not coerced into fighting? He likes fighting in wars?
3. 2011: 'Hell and Back Again' draws attention to veterans and PTSD.
The next noteworthy film to touched the topic, Hell and Back Again (2011), portrays a damaged U.S. Marines sergeant returning home and struggling with PTSD and broken limbs after fighting in Afghanistan. In the film, the character is trying to find some semblance of normalcy in civilian life. Though Hell and Back Again was an Oscar-nominated documentary, it got nowhere near as much critical acclaim or visibility as The Hurt Locker or subsequent movies on the topic. 
4. 2012: 'Argo' pats the U.S. on the back for a job well done.
The Hurt Locker's legacy lived on in 2012, when several other movies made it to theaters and received widespread approval. Among them were Kathryn Bigelow's Zero Dark Thirty, a dramatization of the hunt for Osama bin Laden and Argo, a film chronicling the Iran hostage crisis in 1979.
The Academy Awards showered both films with nominations, and Argo later took home the Oscar for Best Picture. As with The Hurt Locker, Zero Dark Thirty and Argo both patted the U.S. on the back for a job well done. In Argo, it was American resourcefulness, intelligence, grit and international relations with Canada that got the hostages safely back on U.S. soil.
5. 2012: 'Zero Dark Thirty' tries to justify torture.
In Zero Dark Thirty, that same tenacity and intelligence was employed to eventually capture Osama bin Laden. Although the incredibly nuanced film purported to not be taking a side for or against the use of torture during interrogation, it ultimately did appear offer a convincing justification; it is acceptable insofar as it yields desired results and elicits otherwise classified information.
6. 2013: 'Dirty Wars' presents a deeply critical picture of the U.S. abroad.
The tone of these films changed yet again with this year's top contenders. As the war in Afghanistan is slated to come to an end in 2014 with the option of some NATO troops remaining (of course all this being dependent on a series of pending agreements with the Afghan government), warhawk movies justifying our presence as a means to an end are fewer and farther between — or at least less recognized and publicized — than in years past. 
Two of the five Oscar Best Documentary nominees for the 86th Academy Awards this year focus on conflict in the Middle East in very different contexts.
Journalist Jeremy Scahill made Dirty Wars to take his viewers on his journey to unearth covert operations of a small group of largely unregulated American soldiers called JSOC. The documentary, which is structured like a Jason Bourne-style thriller with monotonous and seemingly factual voiceovers, pulls back the curtain on JSOC's night raids and drone strikes all over the globe — from declared war zones like Afghanistan, to the undeclared like Yemen and even Thailand, according to Scahill.
Though Scahill is grating and self-indulgent as a hero figure, what he finds in his investigation is deeply troubling. He reveals the United States' continued use of clandestine attacks to track an ever-growing kill-list around the globe. This is to fight decentralized "terror" at the expense of innocent civilians without explanation.
7. 2013: 'The Square' lets Egyptians talk about their lives in their own voices.
Then there's The Square, the first Egyptian movie to ever be nominated for an Oscar. It follows activists from 2011 to 2013 as they overthrow Mubarak's government from Tahrir Square and then reel from the fallout and continued revolution.
The documentary's poignancy comes from the cinéma vérité-induced realization that we rarely get to see Egyptians talking about Egyptians — or, to take that thought one step further, Afghans talking about Afghans, or Iraqis talking about Iraqis. Western filmmakers have voiced these experiences for so long that their personal perceptions have gotten lost in the shuffle. And though the U.S. did not explicitly intervene with boots on the ground, The Square stands alone as the most easily accessible and entertainment-based view of the events at Tahrir Square outside of mainstream news sources that covered the revolution in real-time.
The narrative American viewers get from all of these films isn't one of triumph and enthusiasm; it's one of fatigue, exhaustion, conspiracy and melancholy. And that sentiment has made it far past films like No End in Sight, which were hard-hitting and thought-provoking, but ultimately anomalous, at the time. 
Not only do Dirty Wars and The Square have the exposure of an Oscar nomination, as many less-seen films have before them, but they are now more easily accessible than most of their predecessors ever were, because they're available for instant stream on Netflix. Netflix is, in fact, the exclusive distributor of The Square thanks to the film's producer, Karim Amer, who told the Wall Street Journal that he wanted the widest reach possible for the film. "We wanted to choose a place that we knew would reach the widest and most diverse audience," he said, "and because of the relatively low cost of Netflix, we felt this was the place where the film would be viewed most widely.
8. 2014: 'A Hero's Welcome' reveals our changing attitude towards soldiers.
Beyond Netflix, the new narrative of media attitudes toward American involvement in the Middle East will be broadcast loud and clear at the most televised and corporatized event of the year: the Super Bowl.
In a piece listing the ads purchased and slotted for Super Bowl XLVIII, Ad Age reported that out of Budweiser's two ad slots, one of them will be a commercial dedicated to Afghanistan war vets titled "A Hero's Welcome." The segment created by Anomaly, the creative team behind last year's heart-wrenching "Brotherhood" campaign for Budweiser, will no doubt be a tearjerker and is likely to cost close to 4 million.
The real-life veteran in "A Hero's Welcome" reportedly knew he was returning home to fanfare from his loved ones, but did not know that AB InBev had enlisted his entire town to throw him a parade upon his arrival. Instead of celebrating the work a soldier does abroad, the narrative of what we're supposed to feel about soldiers has made a complete 180.While we once recognized their sacrifice and applauded their courage and dedication, we now lament the fact that they had to go at all — and yearn for days when we can welcome them home safe and sound. Or at least that's how public-facing media is reacting.
As American troops return home at the official the close of the longest war in U.S. history this year, the bigger questions media is now asking have had time to sink in: What do drones actually do to people? And to whom exactly do they do it? What kind of toll does war take on those fighting? On civilians? How do we recover from that kind of trauma? Is the War on Terror really over? Or is it now just more amorphous and widespread than ever before?