15 Lunar New Year Celebrations Happening Right Now Around The World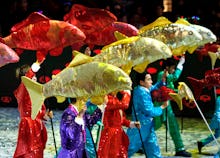 Happy Lunar New Year! Known as Spring Festival or Lunar New Year in China, the holiday celebrates the turn of the Chinese calendar. Because it's based of a lunisolar counting of days, the holiday changes dates ever year, but always falls between January 21 and February 21 and lasts 15 days — though official celebrations in most parts of the world last about three days. 
According to legend, Chinese New Year originated with the story of a mythical beast called Nian, who would attack villages on the first day of the New Year and eat livestock, crops and villagers, especially children. To ward off the monster, villagers prepared foods for the beast and had children wear red, Nian's most hated color. Since then, a number of traditions and superstitions have evolved over time including eating specific foods, shooting off fireworks and lots of red — everything from wearing red underwear to giving money in red envelopes.
And of course there's also the animals. This year, we're going into the Year of the Horse. People born in this year are said to be like horses: strong and energetic and fearful of too much constraint. 
Along with official celebrations in China, people are celebrating in Hong Kong, Macau, Taiwan, Vietnam, Malaysia, Brunei, Singapore, Indonesia and Philippines observe the holiday with a series of events and festivities over the 15 days (each of which has a unique and specific name and purpose).
Here are some images of the Chinese New Year celebrations going on around the world right now:
1. Manila's Chinatown district in Binondo, Philippines
2. Temple of Earth park in Beijing, China
3. Manila's Chinatown district in Binondo, Philippines
4. Yonghegong Lama Temple in Beijing, China
5. Hong Kong
6. Kolkata, India
7. Aquaria KLCC underwater park in Kuala Lumpur, Malaysia
8. Beijing, China
9. London, England
10. Manila's Chinatown district in Binondo, Philippines
11. South East Asia Aquarium at Resorts World Sentosa in Singapore
12. Hong Kong
13. Kuala Lumpur, Malaysia
14. Manila's Chinatown district in Binondo, Philippines
15. Hong Kong