Watch: Avicii's "Wake Me Up" Sounds Shockingly Good on Bagpipes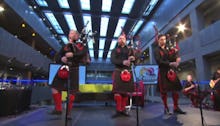 There's a moment in every obsessive music lover's relationship with a song when you listen too much. Suddenly, you can't hear the song without thinking of your morning commute or the time you tripped on the treadmill at the gym. And suddenly you fall out of love with it.
In the case of Avicii's massive hit, "Wake Me Up," most of America is probably already at that point — the song has been listened to over 250 million times on YouTube alone. But if ever there were a cover to revive our collective obsession with this song, it's this one by Scottish bagpipers the Red Hot Chilli Pipers:
The group perfectly delivers the song's soulful-but-punchy melodies — while wearing kilts and playing pretty epic bagpipes. The Red Hot Chilli Pipers have been famous since they walked away with the top prize on the UK primetime TV talent show, When Will I Be Famous in 2007. Since then, the band has been touring across the world and building their cult fanbase into a worldwide phenomenon. They've more or less traversed the world doing covers like this. And they couldn't have picked a better song than this.
Avicii's song was perfectly built to be a megahit — it successfully combined the Mumford epic folk sensibility with the mainstreaming of the EDM (Electronic Dance Music) movement. If you haven't heard it, imagine "Little Lion Man" but with a huge beat drop.
This is only the latest song the Scottish group has improved with bagpipes. It's their best yet, but it's pretty hard to argue with Journey's "Don't Stop Believing" and Coldplay's "Clocks."