New Microsoft CEO: 9 Facts About Satya Nadella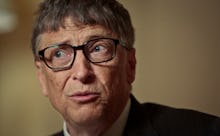 Microsoft has found a leader in Satya Nadella — currently the head of enterprise and cloud operations — who will replace outgoing CEO Steve Ballmer, according to Bloomberg.
Rumors have also been circulating that Bill Gates will soon step down as the company's chairman. He will likely remain involved in product development, but a Gates-less Microsoft may be the crucial change the company needs to compete with Apple.
Nadella's experience would likely push Microsoft to develop its corporate products if chosen as CEO. His success with cloud computing also suggests a future direction for the company.
Although Ballmer and Gates are well-known within the tech community, much less is known about Nadella. Here's what you need to know about Microsoft's heir-apparent and what his appointment to the C-suite would mean for the company:
1. Nadella earned his bachelor's degree in electrical engineering and communications from Manipal University in his native India. He came to the states for an MBA at UChicago's Booth School of Business. He also holds an MS in computer science from the University of Wisconsin-Milwaukee.
2. Nadella has been at Microsoft for 22 years. Bing, Microsoft's answer to Google, was one of Nadella's projects.
3. Nadella will continue taking Microsoft into the cloud. He's already done this with tools like the Windows Server and the firm's developer tools. Nadella is likely to continue this trend if appointed CEO.
4. He's already proven the power of the cloud with Office 365, a fast-growing cloud version of Microsoft Office.
5. Wall Street isn't head over heels for Nadella. Many analysts have expressed a desire for new blood at the firm and a break from the status quo.
6. Nadella's prior tech experience comes from Sun Microsystems, now owned by Oracle.
7. Nadella would be only the third CEO of 38-year-old Microsoft after Bill Gates and Steve Ballmer.
8. Nadella's appointment would make him one of the America's most powerful Indian-origin executives, alongside MasterCard's Ajay Banga and PepsiCo's Indra Nooyi.
9. "He's an enterprise guy," said analyst Mark Moerdler, of Bernstein Research to WSJ's Market Watch. "The real opportunity for Microsoft is in that they are moving to more cloud and subscription services. And here's a guy who does that."