Watch Tina Fey Tell Jerry Seinfeld What It's Like to be a Female Comedian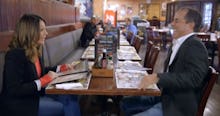 Jerry Seinfeld's most recent episode of his web series Comedians in Cars Getting Coffeeis basically Seinfeld. With Tina Fey getting real about what it's like to be a woman in comedy.
Fey is a feminist icon — the first female head writer of SNL, writer and star of 30 Rock and two time co-host of the Golden Globes with her friend Amy Poehler. This video is more or less the greatest episode of Seinfeldthat never was — Seinfeld and Fey, riding around New York, talking about life as a comedian, what it's like to be a woman in show business, and parenthood. It's a hilarious and altogether wonderful episode.
As only the second female comedian to appear on Seinfeld's popular series, Fey talked a lot about the unique challenges of being a female comedian. When asked about female comedians balancing their "feminine projections" with their "comedic goals," Fey side skirted the question, "If I do a talk show, I gotta have my stories together and I have to try to look okay. [After all] some people work in coal mines." This was only a tamer version of her brilliant passage in Bossypants on the media's influence on young women, "Now every girl is expected to have Caucasian blue eyes, full Spanish lips, a classic button nose, hairless Asian skin with a California tan, a Jamaican dance hall ass, long Swedish legs, small Japanese feet, the abs of a lesbian gym owner, the hips of a nine-year-old boy, the arms of Michelle Obama, and doll tits. The person closest to actually achieving this look is Kim Kardashian, who, as we know, was made by Russian scientists to sabotage our athletes."
She also joked about motherhood: "My husband does throw up … feces are my purview," and laughed over her eight-year-old daughter's skeptical reaction to the male romantic leads who get cast opposite her in films.
And she veered toward Liz Lemon territory by her professed love of Emmy-night eating. "Nights where I win an Emmy and be like what's my food treat going to be. The Emmy isn't the award. [The food] is," she said. She also eats a Cronut in the show at Dominique Ansel's bakery of all places.
At 17 minutes, this video still isn't long enough. But the end is the best part: a story involving her, Louis C.K., Chris Rock and a couple of Rolexes. This is the perfect comedy gift: a chance to bask in the greatness that is Tina Fey and the richness of the comedy tradition in New York.