Pretty Soon We'll Have Websites Ending In .WTF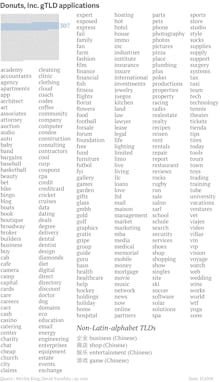 Prepare for the upending of the internet. This year hundreds of new "top-level domains" or gTLDs (like .fish, .family, .jaguar, and even .wtf) will go live.
The application fee to start a new top-level domain (like, say, DeliverMe.pizza) is a staggering $185,000, payable to the Internet Corporation for Assigned Names and Numbers, the powerful governing body of the world wide web. There's only a couple in operation right now, like your typical boring .com, .org., .net, but that changes starting next week on Feb. 4.
Companies like Amazon and Google are rushing to open new domains, but other companies like the $100-million Donut are looking to get in the game. Below are the 307 domains Donuts hopes to register:
Some of them seem a little useless (.network? We already have .net, dudes), while others seem like they'll do just fine (.art, .help, and .now come to mind).
How does this affect me? For one, you might have to get used to memorizing a lot more gTLDs. Until 2013, there were only 22. Now there will be hundreds.
ICANN's Cyrus Namazi told Quartz there's another reason it's necessary: "We've gone from an average of four or five letters in a second-level domain to something in excess of 14 to find what you're looking for." In other words, the internet is running out of space. Excellent domain names like Pets.com will now be opened up to competition for theoretical new sites like Pets.help or, say. Pets.food.
And in what some critics are lambasting as a huge land grab by corporations to claim gigantic swathes of the internet for their own, the fighting between investors has been fierce. Writes Quartz:
In June 2012,  ICANN announced it had received a total of 1,930 applications for 1,410 unique domains from about 1,000 different entities. Of the 1,930 applications, 751 names are contested by 231 applicants, which in the case of non-trademarked names will be decided by auction. 
That's because massive internet companies have an interest in getting you online, keeping you online, and getting you to perform more and more of your daily life online. 
Finally, if you needed another reminder that the internet affects real life too, China and Taiwan are already getting into a territorial skirmish over a gTLD for government services.
The bottom line: I'm first in line for Tom.wtf. I will fight you for it.