13 Jobs Where Hard Work Can No Longer Buy You the American Dream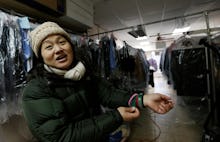 Although the rich may be getting richer, the majority of Americans have witnessed stagnate economic prospects in recent years. In fact, income inequality in the U.S. is the highest its been since 1928.
This means that those with low-paying jobs will have a more difficult time climbing up the economic ladder. A recent paper published by the National Bureau of Economic Research found that, in recent years, the growth rate for economic mobility between generations has also slowed, meaning that your family income won't be much higher than your parents'.
In 2012, the Bureau of Labor Statistics reported that 1.57 million Americans earned the minimum wage of $7.25 per hour, and most of these jobs offer no health care or retirement plans.
This is not a good sign for the U.S. economic system — and most Americans know this, as illustrated in the chart below from the Pew Research Center:
Below is a list of low-paying jobs that hover right around minimum wage and offer little upward mobility. The data is compiled by the latest BLS' list of more than 200 occupations, sorted by annual wage.
1. Food preparers and servers
Annual mean wage: $18,720
Employment: 2,943,810
States with the highest employment level of food preparers and servers: Texas, California, Florida, New York and Ohio
2. Cooks in fast food restaurants
Annual mean wage: $18,780
Employment: 504,740
States with the highest employment level of cooks: California, Florida, Illinois, Florida and Georgia
3. Farmworkers
Annual mean wage: $19,990
Employment: 253,670
States with the highest employment level of farmworkers: California, Florida, Arizona, Washington and Oregon
4. Amusement and recreation attendants
Annual mean wage: $20,020
Employment: 256,400
States with the highest employment level of amusement and recreation attendants: California, Florida, Texas, New York and Pennsylvania
5. Lobby attendants
Annual mean wage: $20,320
Employment: 106,860
States with the highest employment level of lobby attendants: California, Illinois, Texas, New York and Florida
6. Lifeguards
Annual mean wage: $20,720
Employment: 125,770
States with the highest employment level of lifeguards: California, Texas, New York, Ohio and Florida
7. Childcare workers
Annual mean wage: $21,310
Employment: 624,520
States with the highest employment level of childcare workers: New York, Texas, California, Florida and Pennsylvania
8. Nail technicians
Annual mean wage: $21,440
Employment: 62,330
States with the highest employment level of nail technicians: California, New York, New Jersey, Pennsylvania and Illinois
9. Laundry and dry-cleaning workers
Annual mean wage: $21,540
Employment: 198,750
States with the highest employment level of laundry and dry-cleaning workers: California, Texas, Florida, New York and Illinois
10. Parking lot attendants
Annual mean wage: $21,540
Employment: 126,520
States with the highest employment level of parking lot attendants: California, Florida, New York, Texas and Pennsylvania
11. Motion picture projectionists
Annual mean wage: $21,600
Employment: 8,030
States with the highest employment level of motion picture projectionists: California, Florida, New York, Texas and Pennsylvania
12. Housekeepers and cleaners
tAnnual mean wage: $21,820
Employment: 894,920
States with the highest employment level of housekeepers and cleaners: California, Florida, Texas, New York and Pennsylvania
13. Gaming dealers
Annual mean wage: $21,600
Employment: 8,030
States with the highest employment level of gaming dealers: Nevada, California, Washington, New Jersey and Pennsylvania