Understanding the Super Bowl's Bizarre Bruno Mars Decision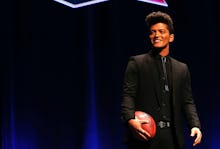 For those of us who hear "pig skin" and think it's just the newest material in Rebecca Minkoff's line of M.A.C. bags, the Super Bowl halftime show is the only redeeming quality of the Titanic-length spectacle. (Besides, of course, the consumption of 30,000-squats worth of calories.) Perhaps that's why, when Bruno Mars was announced as this year's leading man, the collective sighs were heard from California to Vermont (Hawaii was of course celebrating), not to mention across the Twittersphere.
It's safe to say that Mars, or Peter Gene Hernandez as he was born, won't be making the lights go out a la the apocalyptic Beyoncé Bowl of 2013, nor does he have the same clout or star-power in any way, shape, or cone-chested form as Madge. But this unpopular pick actually makes a lot of sense, not just because Mars did a mean Elvis impersonation at age 4.
For one thing, it would be redundant to feature a female superstar for the third year in a row. More importantly, when it comes to live performances (something Queen Bey knows a thing or two about), Bruno Mars is incredibly talented. Not only does the National Academy of Recording Arts and Sciences of the United States, a.k.a. the Grammy-Award-nominating body, think the man can put together an album, but he's apparently even better live. Rolling Stone called his performances "better than even his records suggest."  And if Mars' co-performers, the Red Hot Chili Peppers, have taught us anything, it's that this is not always an easy feat.
"If you like the sound of animals being trampled to death, you'll love their appearance here," said Yahoo's Rob O'Connor, referring to the RCHP's appearance on Saturday Night Live. Mars on the other hand, was given the honor of both hosting SNL and being the musical guest in the same night — and his performance was lauded. NBC Sports' Dan Patrick said (ironically in his tirade against Mars as halftime performer), that "the people who worked with him on Saturday Night Live loved him and said he was as professional and as talented as any musical act they'd seen, and these are guys that have been doing the show for 20 years."
Then again, Broadway stars and figure skaters are also excellent live — and this doesn't mean they make the most modern halftime picks. In fact, Time Magazine named 1992's Olympic-themed show featuring Brian Boitano and Dorothy Hamill gliding through an ice-rink on the field, as well as Carol Channings two-time Super Bowl appearances, among the seven all-time weirdest choices.
Image credit: AP
Nevertheless, Adweek's Jeetendr Sehdev doesnt think Mars is a weird choice at all. Apart from the fact that hes an amazing live act, Mars is flawed and real, Sehdev writes. And its these flaws that he says will actually appeal to millennials. Although he found that only 29% of U.S. millennials care that Mars will be catching Grenades all over center field, Sehdev thinks they can actually relate to his authenticity, his mixed-ethnic background and his carefree songs, which significantly appeal to the uber-optimistic attitude of millennials, more than any mega star around. He's a "strategic choice to lead the Super Bowl's evolution as a more accessible and human brand," says Sehdev.
Whether it's accessibility, sheer talent or diversity that led to the 2014 Bruno Bowl, one thing is for certain: He inspired the greatest proposal of all-time, and for that we get out our hats, put on our Bruno Mars-inspired Songza playlists and keep our disapproval to ourselves.