India's Gay Rights Fight is Being Held Back By Public Figures Hiding in the Closet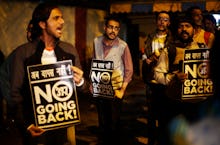 Early last week, celebrated Kenyan writer Binyavanga Wainaina came out to the world when he posted an unpublished chapter from his acclaimed 2011 memoir One Day I Will Write About This Place online. Wainaina said he was prompted by the recent death of a young, gay friend and the increasing wave of anti-gay legislation throughout Africa.
But Wainana's declaration also begged another question: To what extent does the coming out of noted public figures propel awareness of gay rights in countries where they have been a divisive issue, such as the United States, and particularly in countries with repressive anti-gay laws?
Wainaina's coming out made me think of the lack of such public figures in India, where on Tuesday, the country's highest court, the Supreme Court, refused to review a plea filed against the ban on gay sex, which the same court issued just over a month ago.
Where is our Wainaina?
Portrayals of gay Indians in the mainstream media are often reduced to prancing caricatures of men who wave their hands and air kiss, as was depicted in the hit Bollywood film Dostana in 2008.
To many Indians, the word gay is synonymous with being flamboyant and part of the fashion industry, mostly because some of the prominent "out" Indians, like Wendell Rodricks, just happen to be fashion designers. Of course, there is nothing remotely wrong with being flamboyant or being a part of the fashion industry, but how can it possibly be construed as a complete representation of the country's vibrant and diverse LGBT community?
To answer that question, it's critical to take a quick detour and examine the number of public figures who have come out in the past couple of years, particularly in the United States, running up to and in the aftermath of the historic Supreme Court decisions in 2013 to overturn DOMA and Prop 8. The most prominent ones, of course, include Anderson Cooper and Frank Ocean, whotranscended the unique difficulties of coming out in their fields, particularly Ocean, who had to navigate the often homophobic and hyper-masculine waters of hip-hop.
But not everyone who came out of the closet was as famous as Anderson Cooper. Tammy Smith, an army reserves officer, acknowledged her wife when she was promoted to brigadier general in August 2012, and became the first general officer to come out while still serving. Three-time All-American Brittney Griner, a basketball player for the Phoenix Mercury team, talked openly about her sexuality in an interview with Sports Illustrated. And Mike Fleck, a Pennsylvania State representative became the first openlly gay Republican state legislator when he came out in December 2012, an anti-establishment move considering his party's often silent or critical views of gay rights
But there were others still who endangered their lives and careers to express themselves freely. Dan Choi, and 37 other West Point cadets came out in protest of the Pentagon's Don't Ask Don't Tell Policy in 2009, and shortly thereafter, Choi was discharged.
In a country that has a law against spreading a homosexual agenda, Russian TV host Anton Krasovsky came out during a live television broadcast, on a TV channel run by the government, and was fired the same night.
Each year Out Magazine publishes its gay power list, ranking 50 of the most prominent gays and lesbians who have made an impact on the country, and the list often includes a wide range of personalities, from entrepreneurs to politicians and scientists.
With a slight increase in gay hate crimes and bullying in recent years, even more public figures have come out openly to stem that violent tide.
Where, then, are their Indian counterparts? To be fair, there are noted gay public figures in India including celebrated writer Vikram Seth and journalist Ashok Row Kavi. But these are just two people in a nation of one billion. If people in countries with brutal governments like Kenya and Russia, with records of beatings and torture of gay activists, can risk their lives, what is holding back those game changers in the world's largest democracy, where even the mainstream media has openly supported gay rights?
I was reminded of the speech Harvey Milk gave on the steps of City Hall in San Francisco in 1978. He exhorted people to step out of the closet. In fact, he encouraged publicly outing people in positions of power. He was gunned down after less than a year in office. And while his tactics may not have gone down well, even with gay rights activists, his words ring out loud and true for me now, particularly with what's happening in India.
Harvey Milk's legacy lives in the actions of thousands of gay rights activists who work tirelessly in India every day, but what about the public figures?
Indian filmmaker Karan Johar has dodged gay rumors for years. Most recently, in an interview with Indian chat show personality Simi Garewal, Johar questioned why he should ever have to explain or acknowledge his sexual preferences. While I respect that response, it seems odd coming from a man who hosts a popular chat show, Koffee with Karan, and often asks his male guests how they would react to being propositioned for a "gay encounter?" And while Johar has publicly opposed the Indian Supreme Court's ban on gay sex, the line of questioning is peculiar — equating same-sex relations to some sort of seedy motel "encounter" where there is the notion that an individual is to be apprehended in the act, and where words themselves attach a guilty connotation to it.
Johar is just one example,  and I'm still on the fence about him being entitled to his privacy on this matter. But what about the others? India's Supreme Court verdict should be enough of a wake-up call for people in positions in power to step up, make their voices heard and make a difference.