Here's What Happened to Amanda Knox's Ex-BF, Raffaele Sollecito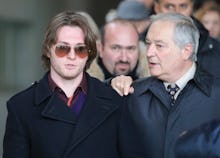 This week, an Italian court found American Amanda Knox and her ex-boyfriend Rafaelle Sollecito guilty of the 2007 murder of her roommate Meredith Kercher in their third trial.
But while Knox is unlikely to serve time thanks to America's protection against "double jeopardy" trials, Sollecito won't be so lucky. Police found him staying with his current girlfriend in a hotel between the northern towns of Udine and Tarvisio just miles from the Austrian border. His passport has been seized and his documents marked to prevent him from fleeing Italy, and when his sentence is confirmed, he will be taken to prison to serve 25 years for the alleged crime.
While Sollecito's lawyer insists he was not planning on leaving the country, the court handed down the travel ban after noting a "real and actual danger that Sollecito could escape Italian justice."
Both Sollecito and Knox were originally found guilty of the murder in 2009, and handed sentences totaling over 50 years. Those sentences were overturned on appeal, but reversed again by the newest decision by the courts in what, to Americans, seems to be a labyrinthine nightmare of a trial system. Sollecito and Knox can try for one last appeal with the Court of Cassation in order to prevent the sentence from going into effect.
"It's evident we will appeal" again, said one of Knox's lawyers, Luciano Ghirga. "We continue to say that there is no evidence."
"I am frightened and saddened by this unjust verdict," Knox wrote in a letter.
"Having been found innocent before, I expected better from the Italian justice system ... This has gotten out of hand. Clearly a wrongful conviction is horrific for the wrongfully accused, but it is also terribly bad for the victim, their surviving family, and society."
Another man, Rudy Guede, is serving a 16-year prison sentence for Kercher's murder. While Americans viewed the case as the result of a shoddy investigation and malicious prosecution, Italians were just as outraged when Knox was acquited, claiming the nation had caved to U.S. pressure. Prosecutors originally claimed that Knox and Sollecito murdered Kercher when she refused to participate in a drug-fueled orgy, then later changed their story to claim it was just a regular argument gone bad.
While Sollecito appears to be bound to go to prison for much of the rest of his life, Knox moved to Seattle after her 2009 acquittal.
"I'm definitely not going back to Italy willingly," Knox told The Guardian. "They'll have to catch me and pull me back kicking and screaming into a prison that I don't deserve to be in."