A Simple Explainer Breaks Down What You Need to Know About the Chris Christie Fiasco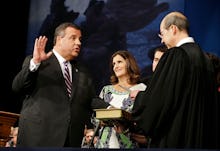 On Friday, the New York Times reported that New Jersey Governor Chris Christie did in fact know about the George Washington Bridge lane closing as it was happening. A lawyer for the former Port Authority official David Wildstein sent a letter which said shutting down the lanes was "the Christie administration's order" and that "evidence exists as well tying Mr. Christie to having knowledge of the lane closures, during the period when the lanes were closed, contrary to what the governor stated publicly in a two-hour press conference."
That second part is extremely important. During that press conference, Governor Christie said, "I had no knowledge of this — of the planning, the execution or anything about it — and that I first found out about it after it was over. And even then, what I was told was that it was a traffic study." With those words, Christie managed to temporarily save face by claiming ignorance. However, if this Port Authority official's new allegations are found to be true, Christie is in deep trouble.
To help understand the situation, here's a basic timeline of events:
1. The lane closing originally occurred from Sept. 9 through Sept. 13.
2. On Oct. 1, the Wall Street Journal published a story with a leaked email from Port Authority executive director Patrick Foye that revealed the problem. "The closure of the lanes was seen by some in Fort Lee and Bergen County as retribution from surrogates of Republican Gov. Chris Christie — who shares control of the authority and its bridges with New York Gov. Andrew Cuomo — at Fort Lee Mayor Mark Sokolich, a Democrat who hasn't endorsed Mr. Christie for re-election."
3. At an early December press conference, Christie was asked about the leaked email and lane closings andsaid, "I think that was the first I heard of it [referring to the WSJ story]. But it was certainly well after the whole thing was over before I heard about it."
4. About a month later on Jan. 9, Christie held a press conference once it was discovered that senior officials in his administration had orchestrated the lane closings. Christie continued to play dumb. Here's a small excerpt from the press conference:
Reporter: But you can tell us that you do not authorize this kind of retribution?
Christie: Oh, absolutely not. No. And I knew nothing about this. And until it started to be reported in the papers about the closure, but even then I was told this was a traffic study.
Christie: I don't know what else to say except to tell them that I had no knowledge of this — of the planning, the execution or anything about it — and that I first found out about it after it was over. ... And even then, what I was told was that it was a traffic study. And there was no evidence to the contrary until yesterday that was brought to my attention or anybody else's attention.
Christie: And we were told that they did a traffic study where they did not want a normal flow of traffic to be interrupted so that the traffic study would be a valid one. That's what we were told. And so we did respond. We asked them, and that's how we responded. You know, and again, I'm not somebody who's going to be, you know, getting into the details of a traffic study and whether one is done appropriately or inappropriately, certainly at that time.
5. On Friday, after Wildstein's letter, Christie released the following statement:
"Mr. Wildstein's lawyer confirms what the Governor has said all along — he had absolutely no prior knowledge of the lane closures before they happened and whatever Mr. Wildstein's motivations were for closing them to begin with.  As the Governor said in a December 13th press conference, he only first learned lanes were closed when it was reported by the press and as he said in his January 9th press conference, had no indication that this was anything other than a traffic study until he read otherwise the morning of January 8th. The Governor denies Mr. Wildstein's lawyer's other assertions."
Now it's just a matter of time until one side proves the other wrong and the truth comes out.