13 Most Memorable Super Bowl Ads From Before the Internet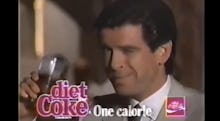 Today with the help of Twitter and YouTube, Super Bowl ads go viral weeks before they actually air. This wasn't always the case. Once upon a time, the commercials were unveiled only during the Super Bowl and families had no idea what they were about to watch until that moment. This list highlights some breakouts of that bygone era before the internet made its splash in every consumer's home.
1. Noxema "Noxema with Farrah" (1973)
While GoDaddy might be synonymous with the scandalous Super Bowl ads of today, another (somewhat unexpected) brand holds the title for one of the most titillating and icky commercials of the past three decades. In this Noxema ad, actress Farrah Fawcett and former NFL star Joe Namath substitute sloppy double entendres for any kind of value proposition. The tagline? "Let Noxema cream your face."  
2. Van Heusen "Think I look good?" (1987)
For a more tasteful approach at leveraging sex appeal, check out this Van Heusen commercial, which may or may not have played a major role in perpetuating the trend of boyfriend shirt stealing.
3. Bud Light "Thomas Edison" (1987)
Taking a different tact from the typically bro-inspired antics the brand depicts, this commercial shows a young Thomas Edison — excited and thrilled to share his light bulb discovery — only to realize all his teacher wanted was a Bud Light.
4. Diet Coke "Special Agent" (1987)
Embodying his suave onscreen persona, Pierce Brosnan nee James Bond, is debonair as ever in this ad, which shows him smoothly evading enemies with the help of Diet Coke, described as a perfect one-calorie soft drink that tastes delicious straight or "on the rocks."
5. Toyota Camry "Sweaty Palms" (1989)
Channeling the same tough-as-nails cute that Betty White has become known for, the older ladies in this Camry commercial don't stand for disrespect while they're out driving.
6. Pepsi "Uh Huh, Part 2" (1991)
If any brand could be crowned the winner of the 1991 Super Bowl, it would be Pepsi, which built on its sensational Ray Charles commercial from the year before to create a three-part follow-up that featured the "inimitable" "Uh Huh" song being sung by groups around the world from Asia to Africa.
7. Apple "1984" (1984)
Vanquishing fears of dystopian conformity, Apple produced one if the most iconic commercials ever made by touching on a basic human truth and highlighting the value of being and thinking different.
8. Nike "Hare Jordan" (1992)
liTurns out the Super Bowl was the birth of a beautiful friendship between man and cartoon that would go on to become the illustrious, '90s classic, Space Jam. Followed by another commercial in 1993, Michael Jordan and Bugs Bunny ultimately teamed up on the silver screen in 1996.
9. McDonald's "The Showdown" (1993)
Michael Jordan was on fire in the early '90s starring in ads for Nike and Converse. But this McDonald's commercial, in which he faces off against Larry Bird in a game of H-O-R-S-E, is advertising legend, inspiring spin-offs in the following years and many sporting duels thereafter.
10. Pepsi "Beautiful" (1992)
Pepsi's partnerships with beautiful sexy spokeswomen have existed long before their latest collaboration with Sofia Vergara. This commercial captivates with the super model Cindy Crawford who becomes the object of affection for two local ten-year-olds she passes by.
11. Pepsi "What do you want to do?" (1993)
Another Pepsi ad stars a little kid who is cynical before his time, emphasizing the importance of having fun and embracing youth when it's still a possibility.
12. Budweiser "Strength" (1985)
The debut of the Clydesdales may not be as adorable as their recent puppy-related promotions, but it establishes the heritage of Budweiser and introduces the majestic horses that are known and loved to this day.
13. McDonald's "Pee Wee Football" (1992)
A showcase of a softer side of the fast food brand that shockingly has no hamburger close-ups to be found. Instead, it's a touching tribute to teams, family, dreaming big, and most importantly, where to eat after the game.