Watch: Tim Tebow Nails It With This Hilarious Super Bowl Ad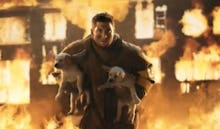 Even though roughly 100 million people will be tuning in to watch Super Bowl XLVIII, chances are a lot of them will be interested mostly in the commercials. And for good reason: Costing roughly $4 million for a 30-second ad, companies will try to put up their best work during the game.
Like a lot of fans, I try to wait for the actual game to watch the ads — even though several of them are already online — but this T-Mobile spot with former Denver/Jets quarterback Tim Tebow was too good to wait:
Poking fun at his own employment status in the NFL, Tebow talks about all the things he's been doing with his time off ... and it turns out he's been a pretty busy guy. According to the commercial, Tebow has delivered a baby, found bigfoot, done stand-up comedy, played chess, ridden bulls, done his own stunts, saved puppies, rocked out, made world peace, and played football on the moon. Quite the resume.
A stand-out star playing for the Florida Gators, Tebow was drafted by the Denver Broncos. Although he began to show signs of promise as an NFL quarterback, the team signed powerhouse quarterback Peyton Manning and traded Tebow to the New York Jets, where he participated in the ill-fated two-quarterback system with Mark Sanchez. He was released at the end of the season and later signed with the New England Patriots, but only played on their practice squad and in pre-season games before the organization released him last August. He now remains unsigned to an NFL team. 
When so many athletes take themselves too seriously, it's genuinely nice to see someone — especially someone like Tim Tebow who's been the center of scrutiny for about as long as he's been playing — make fun of himself a little bit and have some fun. If this is any indication of things to come, Super Bowl XLVIII will likely be a banner year for Super Bowl commercials. 
Also: "You might want to hold on to those donuts" ... amazing line.