Breaking: Actor Philip Seymour Hoffman Reportedly Dead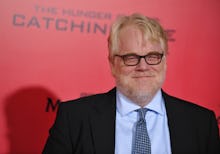 Update: Sunday, 2:30 p.m.
Family statement: Philip Seymour Hoffman's family expressed their sadness at the "tragic and sudden loss"
"We are devastated by the loss of our beloved Phil and appreciate the outpouring of love and support we have received from everyone. This is a tragic and sudden loss and we ask that you respect our privacy during this time of grieving. Please keep Phil in your thoughts and prayers."
Updated: Sunday, 2:30 p.m.
According to the Wall Street Journal, award-winning actor Philip Seymour Hoffman was found dead in his Manhattan apartment this afternoon. Little else is currently known, but PolicyMic will continue to update this breaking story as news is made available. 
The New York Police Department and the Office of the Chief Medical Examiner are investigating the situation to determine the cause of death. An official reported that a friend found Hoffman, 46, in the bathroom of his West Village apartment around 11:30 this morning. Hoffman had a syringe in his arm and an envelope containing what is believed to be heroin.
The official told the New York Times, "It's pretty apparent that it was an overdose. The syringe was in his arm."
In the past, Hoffman has admitted to struggling with drug addiction and reportedly checked himself into rehab last year for heroin abuse.
Hoffman has starred in dozens of movies and might be most well known for his Oscar-winning performance in 2005's Capote.