To Stay In East Rutherford, New Jersey Tonight, You Need Around $3,000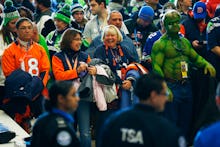 Going to the Super Bowl is never cheap. Tonight's battle at MetLife Stadium will bring roughly $600 million in economic activity to the NY/NJ area, a staggering figure that reflects the across the board price gouging fans have come to expect from the sporting event.
If you decided to go to the Super Bowl today, you'd have to think about the cost as a percentage of your salary this year. Tickets on StubHub range from $1775 to an astronomically high $294,000. The New York Post recently highlighted a Super Bowl package with a $500,000 price tag (Gulfstream jet and "cheerleading flight attendants" included).
Lodging near the stadium in East Rutherford, NJ is sparse and what's left is exorbitantly priced. This town home in nearby Secaucus would run you $3,000 for the night. Here's a two-bedroom apartment that's five minutes from the stadium and runs for $3,000 a night. This one bedroom rental comes with a fully-stocked bar for $4,000.
The private housing available for Super Bowl attendees is aimed at large groups and deep pockets. Limited hotel rooms are still available in the Meadowlands for less than $100 (for the average Joes).
The Super Bowl is also one of the most gambled events of the year. Gamblers in Las Vegas alone are expected to spend $100 million predicting who will win tonight's game, the spread, and a number of other measurable outcomes (The Seahawks are expected to record to most penalty yard) called prop bets.
Despite the boatloads of cash changing hands today, locals in New Jersey aren't optimistic about getting a fair piece of the action.
"The money that's coming in … goes back to corporate headquarters and shareholders around the world," East Rutherford Mayor James Cassella told NJ Spotlight.
While New Jersey has seen an influx of 5,000 temporary jobs related to the game, Cassella said locals who normally shuttle fans from bars in Secaucus to Giants and Jets game are getting short-shifted because of a rule against dropping off ticket holders at the stadium.
Once you get to the game, expect food inside MetLife stadium to be pricey. A beer and a hot dog along will run you $25, not that you should have expected any less on the second-highest day of food consumption in the U.S. (after Thanksgiving).