The 10 Defining Roles of Philip Seymour Hoffman's Career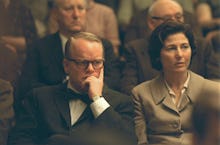 The news of Philip Seymour Hoffman's untimely death Sunday morning by an apparent drug overdose shook the film industry. With a 20-plus-year film career, the 46-year-old Hoffman was considered one of the greatest actors of his generation and had accrued actor-legend status on the scope of artists like Meryl Streep and Daniel Day-Lewis.
With a career that began with a role on Law & Order and culminated in iconic roles, classic films and an Oscar, Hoffman will long be remembered for his performances and incredible talent. Here is a look back at some of the roles that defined his career.
1. Scotty J., 'Boogie Nights' (1997)
Boogie Nights was not Hoffman's first feature film role, but his supporting actor performance was considered a breakout for the talented 30-year-old actor. The film was also the second of five collaborations between Hoffman and the filmmaker Paul Thomas Anderson. Boogie Nights received enormous praise when it was released and the cast, including Hoffman, was nominated for the Screen Actors Guild Award for Outstanding Performance By a Cast. 
2. Brandt, 'The Big Lebowski' (1998)
A cult classic if there ever was one, The Big Lebowski is a constantly quoted, cinematic staple for any self-respecting stoner movie buff. Hoffman plays the greasy Brandt, the mediator between The Dude and The Big Lebowski, and will forever be remembered for one perfectly executed laugh. 
3. Phil Parma, 'Magnolia' (1999)
Another collaboration between Hoffman and Paul Thomas Anderson, Magnolia firmly cemented Hoffman's place on the movie map. In what the New York Times called an "extremely memorable" performance, Hoffman played a dying man's nurse alongside a cast that also featured William H. Macy, Tom Cruise, Julianne Moore and John C. Reilly.  
4. Lester Bangs, 'Almost Famous' (2000)
He's only in scattered scenes throughout Cameron Crowe's love letter to rock and roll journalism, but the memory of Hoffman's performance as legendary rock journalist Lester Bangs far outweighs the screen time. As Rolling Stone so eloquently put it in their review, Hoffman makes, "acerbic comic magic out of a sliver of screen time." 
5. Jacob Elinsky, '25th Hour' (2002)
The Spike Lee film about a man's (Edward Norton) final 24 hours before going to jail features Hoffman in a fairly unlikeable role that required the gift of tightrope walking to perfect. As only a skilled actor can, Hoffman managed to make the contentious character (a high school teacher with a crush on one of his student's) undeniably sympathetic. 
6. Truman Capote, 'Capote' (2005)
Actors dream of their career-defining roles and this was Hoffman's. Playing the complicated writer Truman Capote, Hoffman delivered a performance that not only displayed the writer's all-consuming obsession with his work, but also managed to connect beyond the scope of that self-containment and touch the audience. The role led to a Golden Globe, a BAFTA, an Independent Spirit Award, a SAG Award and an Oscar. 
7. Gust Avrakotos, 'Charlie Wilson's War' (2007)
The Mike Nichols film about congressman Charlie Wilson's shady dealings in Afghanistan had Hoffman in the role of a foul-mouthed CIA officer. Co-starring alongside Tom Hanks and Julia Roberts, Hoffman managed to shine brighter than both A-listers and land himself a well-deserved Oscar nomination. 
8. Father Brendan Flynn, 'Doubt' (2008)
Playing a priest in the film adaptation of the Pulitzer Prize winning play, the film showcases Hoffman in the prime of his career. With an Oscar win under his belt, he also received a nomination for his performance of Father Brendan Flynn. The complexity of this performance showed Hoffman alternately convincing the audience that he was, and was not, having an illicit affair with an alter boy.  
9. Lancaster Dodd, 'The Master' (2012)
Another collaboration with Paul Thomas Anderson, the film starred Hoffman in the role of a cult leader – thought to be based off of Scientology's L. Ron Hubbard. The film co-starred Joaquin Phoenix, and racked up another Oscar nomination for Hoffman. 
10. Plutarch Heavensbee, 'The Hunger Games: Catching Fire' (2013)
The character roles in huge franchise films are always the most exciting, and Hoffman's portrayal of gamemaker Plutarch Heavensbee was no exception. The performance also introduced the actor to a new generation of young mainstream fans. The remaining two films in the franchise were also set to include performances by Hoffman.