Renée Fleming Just Blew Everybody Away at the Super Bowl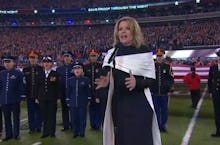 Renée Fleming just opened Super Bowl XLVIII with her rendition of the National Anthem, and it's safe to say that nobody has ever made the word "ramparts" sound better.
Fleming, the four-time Grammy winning American Soprano, is a darling of the opera world with broad crossover appeal. She's known as the "people's diva," and tonight she proved why. 200 years after our national anthem was first penned, Fleming brought an operatic gravitas to our nation's most patriotic song. After a steady decline in the quality of performers since Jennifer Hudson in 2009, Fleming gave the most stirring performance of the past several Super Bowls. Between her passionate sign language interpreter, the fireworks on "Bombs bursting in the air," and the addition of a new, piercingly high "the brave," Fleming has earned her place among Super Bowl greats like Whitney Houston in 1991: 
It's just nice to see the Super Bowl finally courting the Opera demographic. For too long, they have been underrepresented on this great day. It was a rare and bold move: in a game that began with a safety, Fleming's performance was anything but. Though Peyton Manning looked completely unmoved, the nation begs to differ.