Bob Dylan Sold One of His Greatest Songs of All Time For a Chobani Super Bowl Ad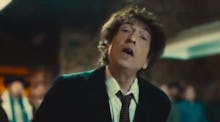 Tonight, Bob Dylan contributed to commercials for Chobani yogurt and Chrysler. Immediately, a collective groan went up from his rabid supporters. This man, a legend, had sold his greatest songs for Greek yogurt (admittedly delicious) and American auto. In the Chobani one, classic song "I Want You" plays while a bear destroys a store because he wants yogurt. In the Chrysler one, Bob Dylan growls "Is there anything more American than America?" before going on to explain what we already knew: "You can't duplicate legacy." 
Once a folk prophet who was only ever caustic to the press, Bob Dylan now seems intent on selling out as often as possible and destroying his legacy. But actually, he's doing the only thing he can to preserve it.
These two commercials are only the highest profile commercial sell-outs of Dylan's increasingly bizarre career. In 2007, he appeared in a commercial for Cadillac. In 2009, he released a truly distressing Christmas album. And then, of course, there was the Victoria's Secret commercial (to be fair, he did once claim that he'd only ever sell out for ladies' garments).
But Dylan has always had only the highest disdain for the fans who treat him like the messiah. In a vicious interview with Time Magazine in 1965, he exploded, "I've got nothing to say about these things I write, I just write 'em. I don't have to say anything about them — I don't write them for any reason, there's no great message."
The same year, he completely forsook his beloved folk singer image to become a rock star, thus alienating most of America and (potentially apocryphally) almost causing Pete Seeger to take an ax to the electrical cable during the 1965 Newport Folk Festival.
Throughout his career, Bob Dylan has refused to let his fans sanctify him. In his venerable old age, surrounded by hagiographers, he could easily rest on his laurels and jovially give away the meaning of all his greatest songs.
But he'd rather sell himself out than give himself away.