The Best Musical Performance of the Super Bowl Was Not the Bruno Mars Halftime Show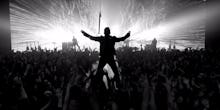 After five years of near silence, U2 is ready to be the biggest band in the world again.
During a Super Bowl commercial for anti-AIDS organization (RED), U2 debuted brand new song "Invisible." For the next 24 hours or so, Bank of America will donate a dollar to (RED) every time the new song is downloaded for free on iTunes (given the band's popularity, Bank of America has set an $8 million cap).
Produced by Danger Mouse of Gorillaz, Grey Album, and "Crazy" fame, the song is the first great U2 song since "City of Blinding Lights" on How to Dismantle an Atomic Bomb in 2004. It has the raw, Joy Division-loving enthusiasm of Achtung Baby or Boy with a timelessly ecstatic U2 chorus. Danger Mouse's influence is clear in the tight production — he's reigned the band in from the unfocused excess ofNo Line on the Horizon. Most significantly, Bono is returning to form as a lyricist — these are easily his best since well before All That You Can't Leave Behind.
Granted, this is only the second greatest Super Bowl moment in U2's history.
With the recent Golden Globes win and Oscar nomination for "Ordinary Love" and a new album in late March or early April, U2 is ready to become the band the world needs again.