The Disaster That Was the Bruno Mars Halftime Show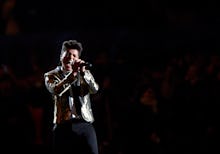 There were a lot of fears about Bruno Mars helming the Super Bowl Halftime show and every single one of those fears was founded. The Super Bowl Halftime Show was a disappointment. Whose bar mitvah were we watching, and how much did they pay Bruno Mars to appear?
To be fair, the whole world still had the glory that was Beyoncé's Super Bowl Half Time show fresh in their minds. Tonight's performance was absolutely nothing like the blackout inducing circus of perfection that happened last year. 
Bruno Mars' performance was much much different. Instead of Bey fresh's ferocity, Bruno Mars played it pretty safe and took a page from the James Brown book of dancing tricks. He did some grooving with instruments, sang a few hits and was inexplicably paired up with the Red Hot Chili Peppers who took the stage unnecessarily shirtless. 
Mars performed bits from his songs "Billionaire," "Locked Out of Heaven," "Treasure," "Runaway Baby" and "Just the Way You Are." The Red Hot Chili Peppers performed "Give it Away." 
Bruno Mars is a hyper-talent, and the Super Bowl played it safe by choosing him —  no wardrobe malfunctions here. His chameleon-esque performance on Saturday Night Live was a great showcase of his skill but the Super Bowl Halftime Show just wasn't all that memorable. Perhaps it was the presentation, perhaps it was the musical pairing, perhaps its the fact that we've come to expect performances both ground-breaking and eye-popping. It was a good concert, but it wasn't necessarily a good Halftime Show. 
Check out the full performance below: