Super Bowl Commercials: These Are the Greatest Songs From This Year's Game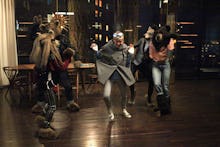 Every Super Bowl — and this rather dull one especially — is fleeting. But each year, fans can find something lasting in the great music America's favorite brands provide. 
Though the halftime show was quite pleasant, the commercials were jam-packed with great tunes. The evening's ads featured some classic music like Bob Dylan's surprise appearances and GoldieBlox's clever Quiet Riot appropriation, but the most remarkable musical moments came with the appearance of new or unfamiliar songs. Some of these were brand new tracks dropped by well-known bands, while others came from relative unknowns, perhaps now set to blow up in the wake of their Super Bowl appearance.
From the chart-toppers to the newcomers, these are the best musical gems the Super Bowl ads unearthed.
1. "Don't Leave" by Ane Brun
Amid all the flash and noise of the Super Bowl, true sincerity can be difficult to pull off. To make their muted Cancer Awareness Day tribute work, then, Chevy had to find the perfect voice, the perfect sound. And find it they did; for just one minute, all slogans and theatrics ceased, and TV speakers were filled with the hushed and quivering voice of Scandinavia's Ane Brun singing the beautiful "Don't Leave" with anxious vibrato. Even if it's all for GM's gain, the introduction of this song to millions can only be a good thing.
2. "Invisible" by U2
It isn't hard for a well-known group like U2 to get most of the world to listen to their new single on name recognition alone, but the Irish rockers still delivered an incredible song last night in this ad for Bank of America and (RED). Framed as a minute of highly stylized concert footage and directed by Mark Romanek of Never Let Me Go fame, the spot offers no doubts about who Bono and co. are: a band of hard-rocking superstars who refuse to slow down. And if this glimpse of the new album is any indication, their new record will be amazing.
3. "Let Her Go" by Passenger
The delicate folk rock that underscores this cute animal tale comes courtesy of Passenger, A.K.A. British singer-songwriter Michael David Rosenberg. The song's clean but slightly wavering vocals and lush string-laden climax have garnered some buzz in the states, and thanks to this heartwarming beer ad, Rosenberg should see his star rise exponentially.
4. "Hide (Feat. Aynzli Jones) [Tropkillaz Remix]" by N.A.S.A.
This Sonos commercial is effective on many levels: it's visually appealing, humorous and it plays to the tastes of young, omnivorous listeners. The only music not composed for the ad comes from N.A.S.A., the L.A.-meets-Brazil duo of producers Squeak E. Clean and DJ Zegon. Those who check out the original (which is itself a remix) will delight in the fact that its infectious, minimalistic beat gives way to a hook just as thunderous as the one in the commercial.
5. "Find You" by Zedd
Props to Budweiser for emphasizing new music this year. Anton Zaslavski, a German-based producer and DJ who goes by Zedd, has been steadily rising in the ranks of the electronic world, building cred with his remixes, producing tracks on Lady Gaga's ARTPOP, and now bouncing along to his latest club-ready banger in front of a hundred million Bud Light Platinum-loving Americans.
6. "We Came To Smash (In A Black Tuxedo) [Feat. Dev]" — Martin Solveig
No, a track that came out in 2011 isn't truly a "new" release. But this obscure cut — it wasn't even released as a single — has an indelible refrain that, even if it doesn't propel French producer Martin Solveig to stardom, will have Americans shouting along every time this T-Mobile ad airs.
7. "Paranoid" by Black Sabbath / "Stripes" by Brandy Clark / "I.D.G.A.F.O.S." by Dillon Francis / "Can You Do This" by Aloe Blacc
A music technology ad is incomplete without a great song, or, in the case of this Beats Music commercial, four. Black Sabbath's "Paranoid" makes a brief appearance, though the real stars of the show are the newer tunes. Ellen DeGeneres busts equally emphatic moves to both Brandy Clark (known for penning tunes for the likes of Miranda Lambert) and quasi-dubstep artist Dillon Francis. The real star of the ad, however, is Aloe Blacc, whose soul sound on "Can You Do This" proved that old school beats are just as danceable as any EDM.