This Crowdfunded App Was Used by Thousands to Take Down Sexism During the Super Bowl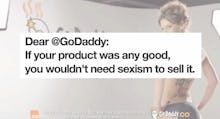 In 2012, consumers responded to sexist ads during the Super Bowl on Twitter by using the hashtag "NotBuyingIt." The #NotBuyingIt campaign spread so rapidly that an app was developed by the Representation Project for this year's Super Bowl. The app allows users to upload images of media they deem offensive and tweet critically at companies airing the commercials. Using GPS, the app tracks engagement across communities as a tool to organize protests or express their opinions.
The #NotBuyingIt app came out of an Indiegogo crowdfunding project after the success of the #NotBuyingIt campaign on Twitter. The campaign has surpassed its goal of raising $20,000 so far, taking in $23,628. It was, again, a huge influence during Sunday night's big game with tweets like this one on Volkswagen:
Some viewers decried the pervasive sexuality in the ads:
The chief among these tweeters was @RepresentPledge, an account created by the Representation Project, seeking to push #NotBuyingIt beyond the Super Bowl. The account description reads: "Pledge to represent the change you want to see for women & girls. Take action daily and tweet w/ #MissRep #NotBuyingIt."
Miss Representation, as the account is called, had some of her own points to make about the ads last night. This one about the Super Bowl's viewership about sums it up:
#NotBuyingIt has clearly impacted advertisers. Before airing its spot this year, GoDaddy, whose ads usually play with gender stereotypes, consulted the Representation Project to ensure its commercial was in shape before the coin toss.