Why This Woman Quit Her Job In Front of 100 Million People Last Night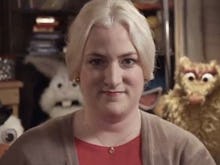 It's hard to be more public about quitting your job than doing it in front of a Super Bowl audience, but that's exactly what Gwen Dean did last night in a commercial by GoDaddy that served as her letter of resignation.
"Let's talk about dreams," began the ad narrated by actor John Turturro.
Gwen was selected from a group of 100 applicants who had all responded to a blind ad calling for participants to publicly ditch their careers, according to Reuters. Dean, who wants to pursue puppetry, spoke ecstatically about her endeavor.
"I'm thrilled to be moving to a new and exciting phase where I am listening to my inner-cheerleader — I am absolutely ready to do my own thing and be my own boss," she said in a statement from GoDaddy.
The uplifting spot is a total change of course for GoDaddy, known for pushing the envelope — sometimes to a fault — in its portrayal of gender stereotypes. The company's Super Bowl XLVII ad featured Israeli model Bar Rafaeli making out with a caricature of a nerd. The ad was panned by the public who used #NotBuyingIt on Twitter to express their disdain.
This year, GoDaddy conferred with the creators of #NotBuyingIt, a group called the Representation Project, which uses "media content to expose injustices created by gender stereotypes and to shift people's consciousness towards change."
For veteran Super Bowl commercial watchers, the fun of GoDaddy's ad was all in the reveal. The company teased the commercial last week anonymously, bleeping out Dean's name and placing a comically large question mark over a photo of her featured in the full spot. But when game time came, Dean was ready to take the plunge.
"Hi, Ted. I quit," she said, marionette in hand.