The 8 Movie Trailers Previewed at the Super Bowl, Ranked From Best to Worst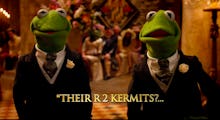 The Super Bowl always provides us with memorable commercials, but it's the movie trailer premieres that really get us hyped up every year. With so many people watching, films need to work hard to stand out and get a positive reaction. So who pulled it off this year?
1. 'Pompeii'
Not even Jon Snow could save this trailer, which made Pompeii look like a sad attempt at a historically inaccurate Gladiator — now with a volcano!
2. 'Transformers: Age of Extinction'
Regardless of how well they made this trailer, which shows off Mark Wahlberg as the franchise's new hero (good riddance, Shia), this would've ended up near the bottom of the list as all around America as people groaned, "Ugh, not another Transformers."
3. 'Draft Day'
Draft Day certainly picked the right venue to premiere — a movie about the football draft works perfectly for the Super Bowl. Even so, the overall dullness of this trailer, especially compared to the pyrotechnics of the others we saw, couldn't bring many non-football fans to get excited about it.
4. 'Need For Speed'
All we got from this trailer was Aaron Paul, Aaron Paul, Aaron Paul and fast cars. Then again, do you really need anything else?
5. 'The Amazing Spider-Man 2'
"You wanted to be the hero, now you have to pay the price," Jamie Foxx hauntingly explains over this new Spider-Man preview. While it looks exciting, it also looks like every other Spider-Man movie — but that isn't necessarily a bad thing.
6. 'Noah'
Noah managed to do what a lot of 30-second trailers fail to: build up tension and excitement with fast cuts and a stunning soundtrack. The sleek visuals added a lot to the overall experience, and we can't wait to see if this movie lives up to the hype.
7. 'Captain America: The Winter Soldier'
Captain America scored the big Super Bowl commercial spot, right before the game started. Taking the America theme to heart, this preview was perfectly placed and showed a darker superhero movie — more along the lines of Christopher Nolan's Batman franchise, built for an older audience. This solemnity was a welcome addition, and appropriate as our generation has gotten used to superhero movies with strong political and social messages. 
8. 'Muppets Most Wanted'
This ad had my entire Super Bowl party in hysterics. The Muppets have been making good use of the "critics" of Twitter in the campaign for the new movie, and this new ad continued the clever trend. It was a perfect balance of silly with smart humor, using a gravitas-filled voiceover wonderfully. It might be a kids' movie, but they found a way to appeal to older audiences, and it might just pay off.