9 Wild Videos of the Pandemonium in Seattle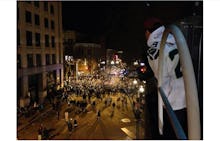 Super Bowl XLVIII was all Hawks. And for a city that hasn't had a major championship since the 1979 Seattle Supersonics, it was an epic win that brought out a side of Seattle that most people don't associate with my laid-back-liberal-coffee-drinking-Pacific-Northwest hometown. 
Sunday night, the 12th man went nuts!
1. It was a big deal to even get to the Super Bowl
2. Actually winning it was something else entirely
3. Around Seahawks stadium the 12th man went nuts
4. Seahawks! Seahawks! Seahawks!
5. Did someone just set off a grenade?
6. At some point, things just got weird
7. Here come the cops!
8. Across town, Hawks fans poured through the streets
9. It was madness!
Let's go Super Bowl XLIX!