'Saturday Night Live' Addresses Racial Issues Head-On With Bold Black History Month Sketch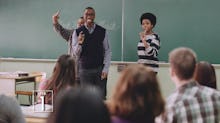 After Saturday Night Live drew critiques from its African-American male cast members Jay Pharoah and Kenan Thompson, the show hired Sasheer Zamata as its first black female member since 2007. The most recent show's skit is one of the first to show just how intent SNL is on addressing racial issues.
The skit lampoons Black History Month, which began on Saturday. Thompson, Pharoah and Zamata dance and rap a school presentation: "28 Reasons to Hug a Black Guy." Of the 28 reasons that the trio offers, 27 of them are slavery.
At one point, the group playfully offers jazz as another reason before immediately revising it as slavery. One of the greatest moments in the skit is when a dorky white male student in the classroom gets up to rap back at them. The mild-mannered female teacher immediately silences him.
Pharoah, Thompson and Zamata brilliantly satirize the guilt motivating Black History Month. It's good to see that the show is willing to take their commitment to racial justice one step beyond casting. It's safe to say this will be a great season.