This Was the Best Scene Philip Seymour Hoffman Did — Perfectly Suming Up His Legend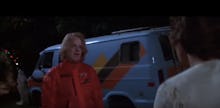 Philip Seymour Hoffman was an actor of uncommon range and depth, winning an Academy Award in 2006 for his role in Capote, and earning nominations for his work in Charlie Wilson's War (2008), Doubt (2009), and The Master (2013). While these accolades came mostly at the tail end of his two-decade career, it was this scene from Paul Thomas Anderson's 1997 drama Boogie Nights that truly introduced the world to his considerable talent:
Hoffman's early role as Scotty was one of the smallest in the entire film. But in his limited screen time, he conjured the perfect dose of lovability, self-loathing, and heartbreaking pathos to deliver one of Boogie Nights' most powerful and memorable moments. That this scene stands out amidst the work of his heavyweight co-stars, which included Mark Wahlberg, Julianne Moore, John C. Reilly, and Don Cheadle, speaks to his tremendous ability. That it exhibits the same tragic quality as the circumstances of his death make it especially profound today.
The background: On Sunday morning, the renowned Hoffman was found dead in his Greenwich Village, Manhattan, apartment of an apparent drug overdose. New York City police responded to a 911 call and found Hoffman unresponsive on the bathroom floor with a needle in his arm, and two plastic bags containing what they believe to be heroin. He was 46, and had three children by his partner Mimi O'Donnell.
Image Credit: Mirror
One of the greatest actors of the generation. Even a cursory glance through Hoffman's filmography shows how vital he remains to recent American cinema and theater. And the outpouring of sadness and support from the acting community reveals how loved and respected he was by his peers:
It's clear that we have lost one of the true acting greats in Philip Seymour Hoffman. Fortunately, his towering legacy lives on through the great work he shared with us.