Are Marijuana Snacks Safe to Eat? Here's How Colorado is Figuring That Out.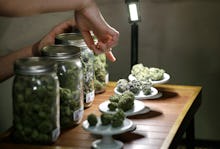 The news: With marijuana legalization marching forward in Colorado, regulators are facing a problem they've never had to consider before — what, exactly, is a safe THC level in food?
Weed-infused products ranging from truffles to sodas and peanut butter are already on sale, but there's no regulations on their safety. And because the current food regulation apparatus depends on support from federal agencies like the Food and Drug Administration, no one can really guarantee they're safe. According to NPR, the marijuana industry wants the regulation.
"We are under a microscope," says Christie Lunsford of marijuana-food company Dixie Elixirs. "Even my competitors, who are food novices, they really care about providing for the consumer and making sure they're safe."
Critics also allege the largely unregulated state of edibles is bad for kids. Gina Carbone of Smart Colorado, which opposed legalization, told the New York Times "They're attractive to kids; they're easily disguised. They're not being regulated properly at all to protect kids."
The background: According to CannLabs owner Genifer Murray, it's important that consumers know how much marijuana is in their food. If you take too much, "You can feel like you're dying. Your heart rate speeds up, you sweat, you can throw up. I mean, it's awful. So with edibles, it is very important that they get tested and that you know your dose."
Cooking with weed is pretty simple. All it requires is to infuse a substance like cooking oil or butter with THC; The Stoner's Cookbook website recommends half a gram of butter per dose for a "mild" high and a full gram for a really intense one. Weed oil can be used in an astonishing number of food products, but it can take a lot of marijuana to make (this weed hot sauce recipe calls for 1-4 ounces of the good stuff, which could easily be hundreds of dollars).
That weed butter and oil can easily go rancid, just like any other food product, and consumers want to make sure that their edibles are safe.
The only agency able to deal with the huge task of regulating the new industry — everything from food safety to lab certification to licensing — falls on Colorado's tiny Marijuana Enforcement Division, which originally watched over medical marijuana. 
"To a large extent, we're learning a lot as we go along," Lewis Koski, the bureau's chief, told NPR. "The right thing to do, from a regulatory standpoint, is to make sure we can comprehensively regulate all these businesses and ensure the health and welfare of the citizens of Colorado."
"It's a new agency. If you're just going to start up a new agency – [even] in a public policy arena that wasn't this divisive — it'd be pretty challenging."
But rest easy: Just like regular marijuana, it's pretty much impossible to overdose on weed-induced foods. Even concentrated hash oil is safe for human consumption.