11 Famous Photos From History That Were Actually Photoshopped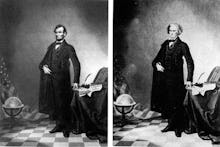 We've all seen them — those famous, black and white, grainy photos of historical figures that depict a part of history. Existing long before computers and Photoshop, we tend to assume these are real, but in many cases, historical photos have been doctored or altered for one reason or another. While it's not generally a case of someone wanting to shed a few extras pounds, there have certainly been a few interesting cases of heavy "photoshopping" in some of history's most iconic images.
Before Adobe, this was typically done by combining negatives and printing them as a single photo. Photography was introduced in 1839 and indeed, from the very beginning, manipulating photos was part of photography.
Recognize any of these famous ones?
1. Abraham Lincoln, 1860
The famous Abraham Lincoln portrait is actually a combination of Lincoln's head and Southern politician John Calhoun's body. The composite was purportedly made because at the time, no heroic-style portrait of Lincoln had yet been taken, so photographers made one with the materials they already had. It's ironic, because Calhoun was a strong supporter of slavery. 
2. Ulysses S. Grant, 1864
A print depicting General Ulysses S. Grant in front of his troops in City Point, Va. during the Civil War is actually the amalgamation of three photos. The head is taken from an actual photo of Grant, the horse and body are taken from a photo of Union Major General Alexander M. McCook and the background is an image of Confederate prisoners captured at the battle of Fisher's Hill, Va.
3. Union Generals, 1865
In this photo by pioneering photojournalist Mathew Brady, General Francis P. Blair (far right) was added to the original photograph of several generals sitting with General William Tecumseh Sherman.
4. Joseph Stalin, 1930
Stalin was notorious for airbrushing his enemies or former colleagues out of his photos. In this photo, Stalin had a commissar removed after he fell out of the Soviet Union leader's good graces.
5. Adolf Hitler, 1937
Like Stalin, Hitler never shied away from doctoring up a photograph. In this picture, Hitler had Joseph Goebbels (second from the right) removed, however it's unclear why the alteration occurred since Goebbels remained close to Hitler till the end — maybe Hitler just wanted to look like more of a ladies' man.
6. The Queen and Canadian Prime Minister, 1939
This photo depicts Queen Elizabeth Bowes-Lyon — mother of Queen Elizabeth II — and Canadian Prime Minister William Lyon Mackenzie King posing in Banff, Alberta, but the original version also included King George VI. Since the photo was later used on an election poster by King, it's speculated he had the King removed to put him in a more powerful light, standing alone with the Queen. 
7. Benito Mussolini, 1942
To appear more heroic, Mussolini had the horse handler removed from the original photograph — probably a good move though, the original one is much more lame. 
8. World War II and the Battle of Berlin, 1945
This iconic photo was doctored and distributed within Russia in the magazine Ogoniok. In the original photo, it appears there's a watch on the soldier's wrist. Ogoniok's editor-in-chief was concerned this would be taken as evidence of looting by the soldiers, and so had it removed from the photo.
The Battle of Berlin was a turning point in World War II. This photo came to symbolize victory over Germany in one of the closing moments of the war.
9. USA Hockey Team, 1960
In 1960 the U.S. Olympic hockey team defeated the Soviet Union and Czechoslovakia to win its first Olympic hockey gold medal. The official team photo features a crude example of early photoshopping in which the faces of Bill Cleary (front row, third from the left), Bob Cleary (middle row, far left) and John Mayasich (top row, far left) were superimposed onto the bodies of players Bob Dupuis, Larry Alm and Herb Brooks (who later went on to coach the 1980 Miracle Team), respectively.
10. Kent State Massacre, 1970
In this Pulitzer Prize-winning photo, Mary Anne Vecchio kneels over the body of Jeffrey Miller at Kent State University following an anti-war protest. The national guard had opened fire on students in what is now an infamous moment in American history.
However, the fencepost was removed because it was seen as a distraction and it was the modified photo that ran in Life and other publications.
11. Willy Brandt and Leonid Brezhnev, 1971
The photo shows the meeting of the German Chancellor of West Germany, Willy Brandt (far left in photo), and Leonid Brezhnev (far right), First Secretary of the Communist Party. The German press published the photo as-is, hoping to depict the reportedly cordial atmosphere in which the two smoke and drank to inebriation. The Soviet Press, however, decided to remove all evidence of fun.