How NYC's 'Slow Fashion' Movement Is Revolutionizing the Industry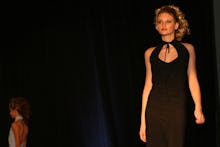 In the last year, New York fashion has taken a hearty turn. The industry has begun to see increased support for local design, production and manufacturing through initiatives like the CFDA's Fashion Manufacturing Initiative, Manufacture New York and Makers Row. While New York has always been a proud (sometimes arrogant) fashion capital of the world, this new "Made in NY" effort has less to do with who you're wearing, and more to do with why you're wearing it. 
This is the "slow fashion" movement. Although this term was coined by sustainable design consultant Kate Fletcher, slow fashion takes a "broader view than just supporting organic t-shirts," says Elizabeth Cline, author of Overdressed: The Shockingly High Cost of Cheap Fashion. It's a movement that's at odds with the fast fashion cycle we've become accustomed to — an antidote to the sugary-sweet high of buying a $10 shirt at your favorite Forever 21, only to come crashing down in a month when your poorly-produced tee rips and must be traded in for a new slew of cheap, trendy items.
Image Credit: Manufacture New York Facebook
Slow fashion asks shoppers to change their consumption habits in favor of higher quality pieces bought more selectively over time. Because while globalized, mass production of clothing gets fashion onto the retail floor much quicker, the moral and human cost of outsourcing far outweighs the benefit of having 20 different versions of a peplum waist shirt at your disposal.
For example, Forever 21 has been the subject if recent high-profile criticism over its sweatshop-like production facilities in the U.S. The retail giant moved its operations to Asia amid backlash, in order to continue its careless manufacturing processes.
Slow fashion seeks to eliminate the tired fashion trade-off of abused workers' rights or harmful environmental production for low-cost clothing.
This is just one reason that Manufacture New York, a fashion design and production incubator, is encouraging both designers and consumers to rethink the ways we produce and consume fashion. With a design and production hub in the city's Garment District and a Brooklyn outpost coming soon, Manufacture New York is leading an effort to help emerging designers produce what they want — locally, and without being beholden to fashion's ravenous trend cycle nor to its harmful production habits.
Image Credit: Manufacture New York Facebook
Manufacture New York CEO Bob Bland recalls her time working in the industry as a designer at companies like Ralph Lauren and Triple Five Soul, and visiting international production facilities where teenagers slept in barrack-like dormitories and worked 12-hour shifts. In response, slow fashion encourages designers to take their time creating a quality product and increasing the value of that item of clothing, while also being mindful of being respectful of both the environment and other people during the production process. "Our designers are building clothes that are built to last, that are meant to be worn for longer, so we're not choosing trends, we're not building clothes that fall apart," says Bland. 
Image Credit: Manufacture New York Facebook
Manufacture New York helps independent designers connect to the supply chain without having to take ethical shortcuts nor meet the quantity demands of overseas outsourcing. With over 50 designer members, including 15 full-time apparel and jewelry designers, Bland notes that Manufacture New York seeks to solve problems for indie designers — from concept, to sample-making, to branding strategy and retail. For example, at this year's Fashion Week, the incubator kicked off a series of runway shows with LAUNCH NYC, providing designer members a unique opportunity to merge runway and retail and enable buyers to select items from ready-to-wear and couture collections immediately after the show. 
Image Credit: Manufacture New York Facebook
Bland is slow (no pun intended) to label Manufacture NY a leader of the "slow fashion" movement, but there is much to be said for the incubator's intention to connect design through production, and to educate the consumer on the production process. "After we finish connecting the dots for designers, the next step after that is to introduce [our model] to the customers," she says. Brands have the opportunity to tell "a beautiful story that tells you who the tailor is, or where the cotton came from. People want to have ownership of their clothing."
For consumers, this ownership comes in the form of being more aware of where their clothing is coming from and making more informed shopping decisions because of it. Slow fashion seeks to eliminate the tired fashion trade-off of abused workers' rights or harmful environmental production for low-cost clothing. 
Cristina Gabriele, founder of jewelry brand Heart & Noble and one of the brands who showed at LAUNCH NYC, praised Manufacture New York for revolutionizing the fashion industry and enabling designers to create for the right reasons. "I'm from the approach of 'create the creation in the time that it is needed,'" says Gabriele. "[Manufacture New York] is not saying they won't fit into a fashion calendar, but just that it doesn't have to."
Image Credit: Heart & Noble Facebook
Designer member Milena Encheva, founder of contemporary clothing line Minnoji, said, "There's a very European sensibility to the idea of buying what you love versus buying something you'll only wear once." And indeed, the recent support of local NYC designers seems to be mirroring the home-grown ethos that has taken London Fashion Week from the redheaded step child of Fashion Week to the first option for A-list designers like Stella McCartney. 
Manufacture New York is empowering designers, who are artists first, to connect with the business side through mentorship and resources. But the incubator is also leading a part of the slow fashion movement, taking some power away from "the industry" and letting both designer and consumer dictate what fashions get created and what fashions get worn. As consumers become better educated on the costs of overseas production, they will learn to appreciate buying higher quality clothes, even at a higher price. Slow fashion seems to be moving New York away from the glitz and glamour of name-brand recognition in favor of a more conscious consumption. And that sounds like a fashion trend that's built to last.