Surprise! "America the Beautiful" Is an LGBT Anthem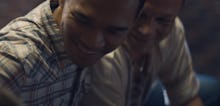 If you weren't one of the 111.5 million people who watched the Super Bowl last Sunday, you might have missed Coca–Cola's "It's Beautiful" ad. The gorgeous spot featured shots of diverse Americans, including a gay couple with their child — apparently the first gay parents in a Super Bowl ad — set to the tune of "America the Beautiful" sung in multiple languages.
The commercial instantly set off an explosion on social media and in the conservative blogosphere, as commentators angrily protested the ad's depiction of an America that is home to both non–native English speakers and non–heterosexuals (if you have a high threshold for online ignorance, check #cokesucks on Twitter).
But in a wonderful twist, reports are surfacing that the writer of "America the Beautiful" was likely a lesbian. This irony is so good that Stephen Colbert couldn't resist using to his show to poke fun at the ad's oblivious critics. 
Katharine Lee Bates wrote "America the Beautiful" as a poem in 1893 after being inspired by a trip to the Rocky Mountains. And for 25 years, Bates lived with a woman named Katherine Coman. Bates defined her relationship with Coman as a "romantic friendship." In letters, she professed her love for Coman, and upon Coman's death, Bates wrote, "So much of me died with Katherine Coman, that I'm sometimes not quite sure whether I'm alive or not."
GLAAD has praised the ad, hailing it as a "reflection of the growing majority of Americans from all walks of life who support their LGBT friends, family and neighbors." Coca–Cola plans to run the ad again during Friday's Opening Ceremony of the Sochi Winter Olympics. Whether Russian President Vladimir Putin is a fan of the ad is another story.