High Five to Germany For These Amazing Rainbow Olympics Uniforms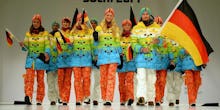 Russia has been advocating an anti-gay agenda for months now, and international outrage has reached a fever pitch as the country gears up to host the 2014 Winter Olympics in Sochi. While many athletes were faced with the difficult decision as to how they should protest Russia's anti-gay policies without boycotting their chance to compete in the games altogether, Germany seems to have come up with a pretty awesome rebuttal.
Photos of the teams' colorful rainbow uniforms surfaced back in October, leading many people to believe that their multi-colored gear was a direct repudiation of Russian policy. Of course, the German Olympic Sports Committee claimed that the designs were in place before the anti-gay legislation in Russia, and designer Willy Bogner points to the 1972 Munich Summer Olympics as inspiration for his bright uniforms: "They were created using colors and materials specially tailored to the conditions in Sochi."
Nevertheless, considering Russia just passed a law that allows police officers to arrest tourists or foreign visitors that they suspect of being homosexual, lesbian or "pro-gay," the uniforms have a broader resonance. 
Even if the uniforms weren't explicitly made with a pro-gay agenda in mind, many fans and athletes will still undoubtedly draw support from the colorful jackets. Whether or not Germany's uniform color choices were accidental, even the smallest act of support feels like a much needed rebellion against the bigotry of the Russian government. A rainbow jacket has never felt so powerful.