Barbara Walters Defends Woody Allen on National TV — Gets Destroyed By Sherri Shepherd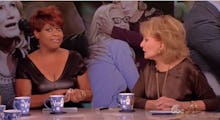 If you thought Stephen King calling Dylan Farrow a whiny liar for coming forward with sexual assault allegations against Woody Allen was bad, you'll have to sit down before you take a look at what just went down on The View.
Watch Barbara Walters describe Woody Allen as a "loving" and "caring father," while Jenny McCarthy counters her by saying she "has nothing to gain in coming out and saying this." As if that wasn't offensive enough, Walters also goes on to suggest that Farrow is only coming forward because Woody Allen is "up for an award." 
Because we all know there must be reason a woman is reporting sexual assault other than well, the fact that she says she was sexually assaulted.
The only thing that could have made this segment worse is if Whoopi would have stepped in to clarify that we're talking about "rape rape." 
Thankfully, Sherri Shepherd was there to save the day. It starts at about 2 minutes where she starts laying out the facts. "He was dating  a 17-year-old. He's a man who has a track record. He likes younger women" and many of them "are not of age." When Walters tried to suggest that this has nothing to do with allegations about incestuous relationships, Shepherd responded, "He married his step-daughter!" 
Who knows how Sherri Shepherd was able to stay reasonable and sound during this segment, but we're sure glad she did.
What did you think about The View's callous response to Dylan Farrow's allegations? Let me know on Twitter and Facebook.
Correction (Feb. 4, 2014): An earlier version of this article misidentified Sherri Shepherd as Star Jones.