The Weird Story Behind the Apple Super Bowl Commercial That Never Aired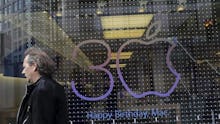 The news: Apple planned to run a Super Bowl ad commemorating the Macintosh computer's 30th Anniversary. But for reasons that remain unclear, it never aired – until now. The commercial was released online yesterday, and it's exactly what you'd expect:
The ad is titled "1.24.14" to reflect the date on which Mac was released in 1984. It appears to be set in a post-Skynet future world, where mechanical hands are controlled by iPhones and tiny robots perform dance numbers for hypnotized children. It also features a man driving his jeep through the jungle while talking on his cellphone and using a laptop. All he needs his a gallon of whiskey and a blindfold to make this the most dangerous activity known to humanity.
The crazy part: But this is no distant future – this is now. The commercial was shot by 15 camera crews, sent all over the world to capture "a single day in the life" of different Apple products. According to Adweek, these crews filmed over 70 hours of footage using only the iPhone 5, then edited it down and added an original score. "Thanks to the power of the Mac and the innovations it has inspired," said the company, "an effort that normally takes months was accomplished in a matter of days."
The commercial also starts with a clear textual reference to this bizarre 1984 ad, which launched the Mac phenomenon:
In it, a lunatic in red shorts interrupts a bunch of bald filmgoers by hurling a sledgehammer through their movie screen. It is unconfirmed whether AMC grants ticket refunds for such occurrences.
The takeaway: Unsurprisingly, Apple has blessed us with another 90 seconds of masturbatory self-congratulations, a gorgeous and heartfelt love letter to itself. One can only hope that we have another three decades of this to look forward too. Happy 30th, Mac.